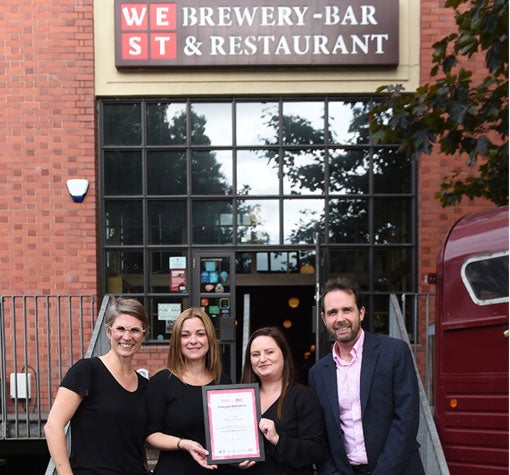 27 June
GSC and the SEC become first ever award recipients through Glasgow Welcomes' Business Recognition Programme.
Two of Glasgow's leading venues have been crowned the winners of a new award recognising exceptional customer service across the city's tourism and hospitality industry.
The Glasgow Science Centre (GSC) and the Scottish Event Campus (SEC) are the first ever award recipients through Glasgow Welcomes' Business Recognition Programme.
Launched last October, the initiative is geared at rewarding Glasgow businesses, large and small, which consistently go the extra mile to improve the city's visitor experience.
Glasgow Science Centre was recognised for its commitment to accessibility and supporting visitors with additional needs; particularly adults and children with autism. More than 100 staff have completed autism awareness training, while the centre's Autism Friendly Hours initiative ensures families can explore the space and participate in activities in a suitable environment.
Autism-friendly sessions run on selected Sundays from 9-11am and include tailored workshops, reduced sound and lighting on all floors of the centre, dedicated quiet spaces and the provision of sensory items, including weighted blankets and ear defenders.
Introduced in March 2018, the centre has welcomed more than 2,000 people to Autism Friendly Hours, however, Gerry McCann, Customer Experience Manager at GSC, says the success of the programme can't only be measured by the number of people coming through their doors.
Gerry said: "That would be counterproductive to our aim. We look for feedback from visiting families that they've had a successful outing; that we've achieved a relaxed environment and that their visit has had a positive impact on their children.
"We want a visit to Glasgow Science Centre to be an enjoyable experience with as few barriers as possible. As a team we're working hard to ensure GSC is inclusive to all.
"We're proud of our Autism Friendly Hours and Deaf Science Club projects, and we're delighted to be one of the first winners of Glasgow Welcomes' Business Recognition Award. We'll keep listening to our customers and ensure that our staff receive the best training possible to support all of our visitors."
Meanwhile, the SEC received its award for the venue's efforts in providing a safe and supportive space for visiting conference delegates who attended three of the world's largest medical meetings in 2018.
Glasgow is an internationally recognised conference destination and business tourism contributes significantly to the city's visitor economy. Hosting more than 500 conferences each year worth upwards of £130m, the majority of large conferences held in the city take place at the SEC.
Last year, the venue welcomed the World Federation of Haemophilia Congress; the World Down Syndrome Congress and the International Symposium on Motor Neuron Disease – which collectively brought 7,000 delegates to the city.
To ensure Glasgow provided a warm and appropriate welcome, Glasgow Convention Bureau partnered with Glasgow Welcomes and VisitScotland to launch the People Make Glasgow Welcome campaign; an initiative offering free educational sessions to the city's tourism and hospitality industry. Led by experts from each conference, alongside local people living with the conditions, the sessions were aimed at helping frontline staff to better understand delegates' needs.
More than 90 SEC staff attended these sessions and staff champions ensured the information was cascaded across the wider SEC team. The venue also produced a series of printed information guides for its employees detailing key information about each conference and how best to support visiting delegates. Recognising that some of the conditions would present mobility issues for attendees, the venue operated accessibility buggies throughout each conference to transport visitors around the campus.
Mark Laidlaw, Director of Operations at the SEC, said: "Preparing for what were three very different conferences, where delegates had very specific needs, was a really collaborative effort from all of our staff.
"Our customer experience team went above and beyond to ensure a positive experience for all visitors to our campus and we received feedback that delegates thoroughly enjoyed their time in Glasgow and felt comfortable and looked after throughout their respective meetings.
"We're really pleased to have won a Glasgow Welcomes Recognition Award, which reflects our staff's commitment to delivering world-class customer service and to looking at ways of continuously improving our customer journey."
Both winners received their awards at Glasgow Welcomes' 'Champions' event held at the city's WEST Brewery yesterday (Tuesday, June 25).
Bringing together 80 managers and leaders from across Glasgow's tourism and hospitality sector, attendees heard from WEST founder and guest speaker, Petra Wetzel about how she created one of Glasgow's best-loved brands, becoming a proud "Gerwegian" and the importance of supporting budding entrepreneurs in the city.
Craig Martin, Chair of Glasgow Welcomes and Head of HR at Glasgow Airport, said: "Every day in Glasgow, businesses like the SEC and the Glasgow Science Centre are delivering exceptional visitor experiences and world-class customer service; it's become the benchmark of our tourism and hospitality industry.
"I'd like to congratulate both of our winners and I hope their success will inspire other city businesses, with similar projects that have real impact and scalability for our sector, to participate in Glasgow Welcomes' Business Recognition Programme going forward.
"I would also like to thank Petra and all of her team for hosting us. WEST Brewery has become a much-loved Glasgow institution and her passion for the city and our industry is inspiring. I'm sure our delegates also enjoyed sampling WEST's famous beers!"