The Scottish Event Campus just got a wee bit better.
A new contemporary space to host your meetings at Scotland's national event destination. A bright, modern space, creating the perfect environment to educate and share. State of the art technology, nourishing food, all the benefits of an experienced event team, and situated in the heart of Glasgow. All you need to do is turn up.
To find out more about how to host a hassle free meeting for 100 – 300 delegates, please drop us a line. Alternatively, you can pop in for a site visit. The kettle is always on.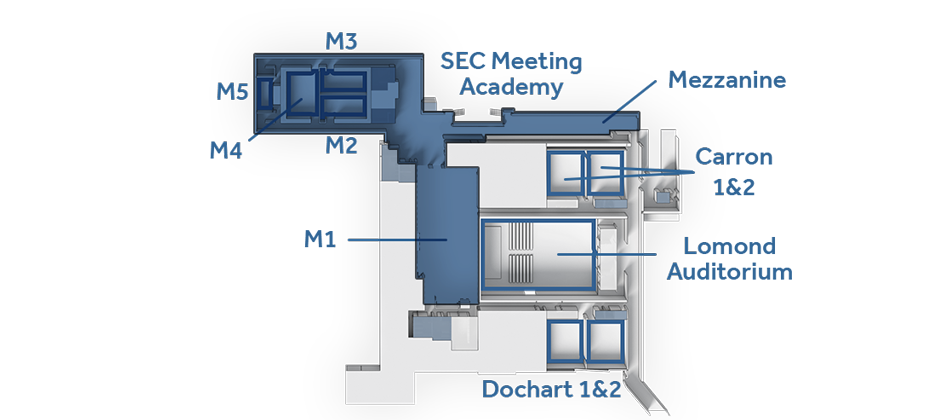 Vital Statistics
Bright, modern space
State of the art technology
Versatile spaces, can be used individually or combined
Why choose the SEC Meeting Academy?
Free high speed Wifi. Inclusive AV and great technicians
Award winning in-house team
Flexible Spaces
1,600 parking spaces on-site. Dedicated railway station.
800 hotel rooms on-site (1000 rooms from 2018)

Healthy food and drink options. 40 bars and restaurants nearby.
Table of Specifications And Capacities
| | Theatre | Classroom | Boardroom | Banquet | Reception | Cabaret | Floor Level | |
| --- | --- | --- | --- | --- | --- | --- | --- | --- |
| M1 | 400 | 180 | 65 | 300 | 400 | 180 | 1 | |
| M2 | 50 | 30 | 20 | 25 | 60 | 12 | 1 | |
| M3 | 50 | 30 | 20 | 25 | 60 | 12 | 1 | |
| M2 + M3 | 100 | 57 | 25 | 60 | 100 | 36 | 1 | |
| M2 + M3 + M4 | 225 | 117 | 65 | 100 | 240 | 96 | 1 | |
| M4 | 100 | 57 | 25 | 50 | 120 | 36 | 1 | |
| M5 | 12 | 6 | 14 | - | - | 6 | 1 | |