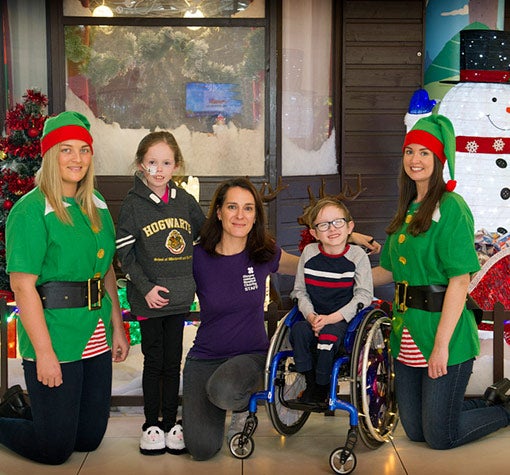 19 Dec
SEC's "TEAM XMAS" DELIVERS SANTA's GROTTO AT THE GLASGOW CHILDREN'S HOSPITAL
There's been plenty of festive fun taking place at The Royal Hospital for Children in Glasgow this month!

A highlight has been the eagerly anticipated Santa's Grotto which welcomes patients and their families on the run up to Christmas.

The Scottish Event Campus' long-standing partnership with Glasgow Children's Hospital Charity includes the design, build and manning of a spectacular Santa's grotto, complete with gifts for the youngsters who spend their festive period in hospital.

Gayle Shepherd, Director of People and Technology at the Scottish Event Campus says:
"The Scottish Event Campus is committed to providing Santa and his team the BEST experience when he visits Glasgow. When we realised that his time in the hospital didn't include a place for families to meet with him privately and create a lasting memory of that Grotto experience, we had to help out. We, as an organisation are incredibly proud to have our very own all year round "elves workshop" on site with all the skills and tools of the trade to build something special!

"Most of us are incredibly lucky that Christmas is a time for celebrating with our families. SEC is very grateful to the GCH medical team who often find themselves working over the festivities, delaying their celebrations to help children who should be at home laying out carrots for Rudolph and playing with new toys. Working with Glasgow Children's Hospital Charity is a truly humbling experience, and if we can provide a little bit of magic to a difficult period for some, then that's the BEST present our team could wish for".

Kirsten Sinclair, Chief Operating Officer at Glasgow Children's Hospital Charity added:
"You simply can't underestimate what a difference a visit to Santa in his grotto can make to children and families in hospital at this time of year. The generosity of the volunteers from the Scottish Event Campus has been absolutely incredible once again this year, and we're so grateful for everything that they do to bring the magic of Christmas to the hospital."

The SEC looks set to bring festive cheer to the charity again next year, with the grotto making its annual return for the fifth time.