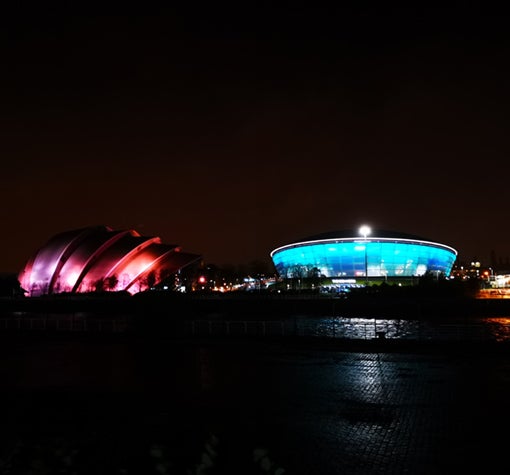 24 Oct
SEC Count Down 50 Days to ABPCO Visit
The ABPCO Chairmen's Lunch & Excellence Awards will take place in just 50-days' time at the Scottish Event Campus (SEC). The annual event will come to the SEC for the first time, following membership feedback on destination choice for the meeting.
The SEC is marking the 50-day countdown by turning the OVO Hydro, one of the on campus venues, into 'ABPCO brand colours' for the day. The venue is also looking forward to sharing some of the most recent developments around the campus with ABPCO members, from the newly launched SEC Meeting Academy and Clydeside Distillery, to the Radisson Red.
"We're genuinely excited about welcoming ABPCO members to the Scottish Event Campus and celebrating everyone's success through the awards. Many of the attendees will have been before with their own events, and some may be new to our campus, so we are looking forward to offering a warm Scottish welcome to everyone," commented Kathleen Warden, Director of Conference Sales, SEC. "So much has happened in the last 12 months on campus here, so it's perfect timing to be proud host of the awards.
"We're really excited to be coming to the SEC for our annual ABPCO Chairmen's Lunch & Excellence Awards, it will be a brilliant setting, and we're looking forward to some great networking with our industry friends and colleagues," commented Kate Sargent, joint-chair of ABPCO. "Anyone that wants to come to the event but is yet to register should do so as soon as possible, Glasgow is a great place to visit and there will be a lot going on in and around the city."