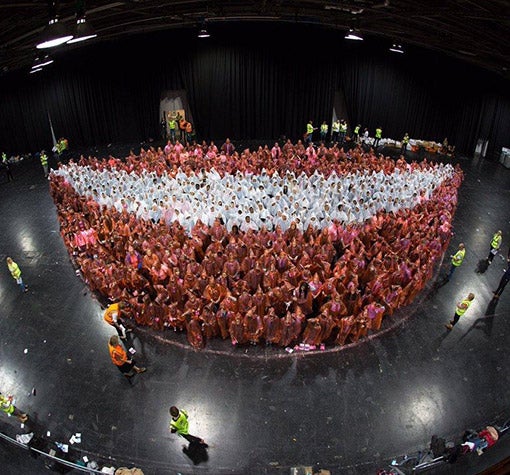 15 June
Scottish Event Campus helps bring huge smile to city of Glasgow
Scottish Event Campus partnered with The University of Glasgow Dental School in their first joint venture to organise and host a Guinness World Record attempt of the world's biggest smile in order to raise awareness of dental health as part of the Oral Health Foundation's National Smile Month campaign.
On Friday 9th June, the SEC welcomed approximately 800 people into Hall 2 to participate in the Big Smile event, which is currently being finalised by adjudicators. Participants included primary school pupils, teachers, dental faculty staff, dentists, alumni, students and SEC staff. The newly appointed Lord Provost, Eva Bolander, also attended and participated as her first official engagement in post.
The two parties are working together as they look to bring more conferences around dental excellence and academia to the city of Glasgow. In true partnership style, The University of Glasgow, organised the attempt with the support of Glasgow Convention Bureau, and the SEC who gifted the venue space and staff to help make it happen.
Kathleen Warden, Director of Conference Sales at the SEC said: "Our partnerships are at the core of everything we do in our business and this truly highlighted how the Glasgow community can come together and do amazing things – like a Guinness World Record Attempt!
"We want to show that between the fantastic team here at the SEC and our partnerships, we can make great things happen for all kinds of events, sectors and causes. You can never underestimate the power of community which is so present here in Glasgow."
Lord Provost, Eva Bolander, said: "I am delighted to be here – it's a fun thing to be a part of! It is really important to get the message out about dental health and I'm pleased to be a part of that. It's a great event for Glasgow."
Professor Jeremy Bagg, Head of the University of Glasgow Dental School said: "We are delighted to see so many people supporting the event. It's all about health improvement through public engagement activities. It's great to hold this event in Glasgow, the city where you are always greeted with a smile."
Dr William McLean, treasurer of the British Endodontic Society and senior lecturer in restorative dentistry at the University of Glasgow added: "What a fantastic day. It's been two years in gestation and we would like to thank a huge amount of people including the SEC, British Endodontic Society, NHS, Glasgow Convention Bureau and of course, all of our participants.
"Glasgow has a great record of providing dental care and this was a great way to bring awareness of the importance of dental care in youngsters and, indeed, people of all ages."
Monies raised during the event from fundraising and a raffle will go towards the development of a new dental learning facility at the university.