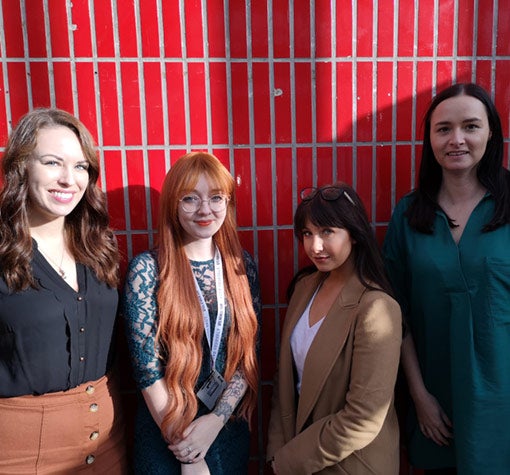 17 Oct
QD Events bolsters team across sales, marketing and support
Scotland's largest events organiser, QD Events, has welcomed four new recruits to its base in Glasgow.
Nikki Miller, Ali Atkinson, Emily Smith and Chloé Whyte have all joined the company over the past month in sales, marketing and business support positions.
Nikki, formerly Head of Operations at Clarion Events, has filled the newly-created position of Director of Operation. Her role will see her drive QD's strategic growth plans, including taking shows to other destinations, launching new brands and looking at new potential acquisitions.
Another new position sees Alison Atkinson take to the helm as Head of Marketing. Previously at Centaur Media and Brand Events, Ali is an expert in event marketing strategy, GDPR and market research, and will use this expertise to drive audience growth and improve the visitor experience across the portfolio.
Also in the marketing department, YouTube guru, Emily Smith has been brought in to increase QD's digital and social media presence. In an increasingly digital world, Emily's experience will help QD bring events to life online and engage audiences on the platforms they use every day to support the overall marketing strategy.
Finally, former business support administrator in the banking industry, Chloé Whyte joins the team to provide administrative and operational support during show-time. During normal operating hours, Chloé will be tasked with streamlining processes across the business.
QD's Managing Director, Greg Cherry makes the appointments as he celebrates his first year in the role: "As a team, we're delighted to be welcoming all four of our new starts to QD Events. The addition of Nikki and Ali means that we can be more strategic in our marketing and operations activities, which will help us reach our business objectives.
"We were playing in our digital space beforehand but bringing Emily in means that we can give our presence much more time and attention. Chloe will bring a good level of structure to our business processes which we very much look forward to.
"We are really excited about the growth of the QD family and look forward to welcoming more team members in the near future."