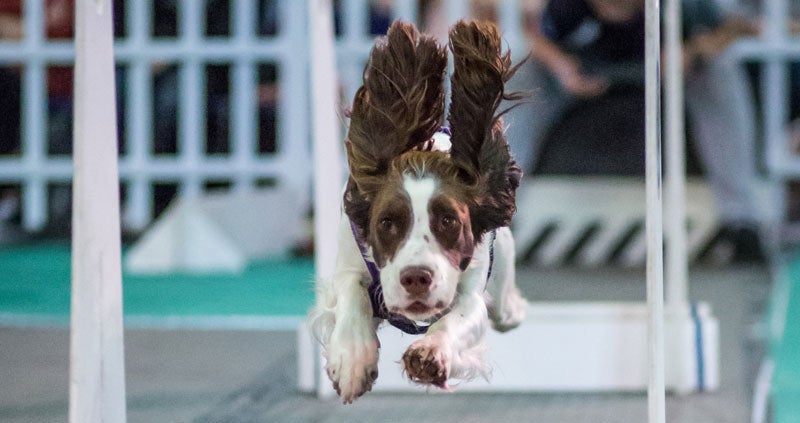 09 Sep
Inaugural Dog Lover Show sets Glasgow's tail wagging
The inaugural Dog Lover Show launched this weekend at the Scottish Event Campus in Glasgow and welcomed ten thousand pooch owners and lovers through its doors. Aisles were full of visitors who had come to catch a glimpse of their favourite breed, treat their own dog or to learn about caring for a pet dog.
The show welcomed some of the largest names in the industry, including the Scottish SPCA and award-winning pet food producer, Nature's Menu, alongside The Scottish SPCA and national organisations who were able to showcase their wares and provide expert advice.
As a result of popular demand, local vet partnership, Pets 'n' Vets hosted a feature area which encouraged young and budding vets and families to interact with trained veterinary surgeons, giving them the opportunity to quiz them on anything from their potential career choices to how to care for their dogs.
The main show Arena was packed with visitors from doors open until closing with spectators eager to catch performances of duck-herding, gun dogs and the electrifying fly-ball competition.
Show Director and Founder, Vic Shields, said: "We're absolutely delighted with the launch of the show. We don't have an events background, so I suppose it has been quite daunting for us to jump in at the deep end with an event of this size however our hard work and dedication ensured it was a huge success.
"We were aiming for a really well-rounded show, something that provided features to suit all kinds of dog lovers and it's turned out brilliantly. We couldn't have done it without the help of the SEC, who have been with us every step of the way – supporting us with everything from operations to marketing. We're really excited to see how we can grow the show in the future."
Breda Cruickshank, Head of Exhibition Sales at the SEC, added: "Show launches are never easy, but we will always go above and beyond to get an idea off the ground. Vic and Robin's passion for dogs is infectious – the SEC team was dog mad by the time the show opened!
"We are delighted that the event went so well and can't wait to see how the Dog Lover's Show evolves in the coming years. It's been another successful launch here at the SEC which highlights that the audience here loves events and will get involved!"