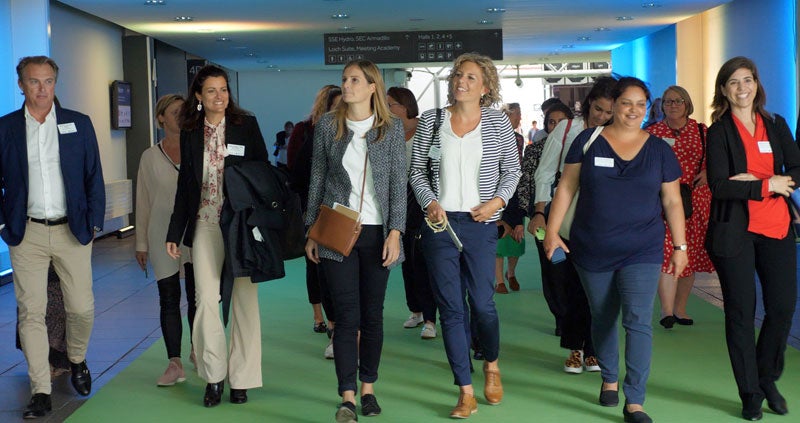 08 July
Inaugural AC Forum & LCE Collaborative Learning Experience takes place in Glasgow
A partnership between the Associations & Conference Forum (AC Forum) and the Leading Centres of Europe (LCE) has successfully delivered its inaugural Collaborative Learning Experience at the Scottish Event Campus (SEC) in Glasgow last week.
The two-day event – the first of its kind - saw a total of 20 delegates from both organisations come together at the SEC under the theme "The Language of Leadership".
Glasgow-based communications consultancy, Pink Elephant, took the delegates through a journey which tackled the golden rules of communication and interviewing skills. Attendees were challenged to communicate in the most effective way possible during filmed interviews which were then played back for analysis. Collaboration between groups and individuals was key throughout the event, helping to grow strong working relationships.
The SEC's Chairman, who is the former president of Virgin Galactic and special advisor to Sir Richard Branson, delivered a session on the value and importance of brand and innovation.
Adrian Ott, President of the AC Forum, said: "Through this new partnership, the LCE and the SEC, supported by the Glasgow Convention Bureau enabled AC Forum's educational ambitions to come a big step closer towards a natural synergy which fosters peer-to-peer education, innovation by sharing good practice, expanding thinking, and finally, neutrality by providing a forum free from commercial influence."
Carola van der Hoeff, Secretary of the AC Forum added: 'It was a wonderful couple of days in Glasgow - I would like to thank the Leading Centres of Europe for their contribution and their partnership in this first Collaborative Learning Experience event. The education element with Pink Elephant was outstanding and, as always, the hospitality of Glasgow was superb. For me it was a well-invested time to be with everyone - meeting my peers, networking, learning and reconnecting with all the members.
Kathleen Warden, Director of Conference Sales at the SEC, said: "The first Collaborative Learning Experience event has been truly fantastic. As a group of association and venue experts, we learned together and developed new skills collaboratively. The workshop was dynamic and provided a training experience that will benefit the participants in their business and personal lives. The program was designed to test and take everyone out of their comfort zone.