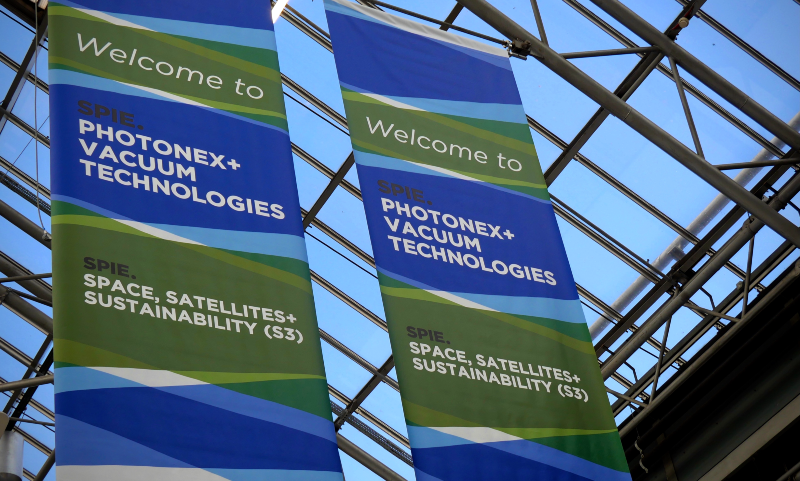 28 Sep
Conferences return to SEC as it welcomes first post-lockdown conference
Glasgow's Scottish Event Campus (SEC), has today welcomed SPIE, the International Society for Optics and Photonics, as its first post-lockdown conference. 'Photonex + Vacuum Technologies 2021' is the UK's premier photonics event combined with Europe's leading event for vacuum-enabled techniques and processes, and 'Space, Satellites and Sustainability' which highlights newly operational satellite systems featuring sensors supporting sustainability, both of which take place at SEC over three days from 28 to 30 September. Later this autumn, SEC will be the host venue of international climate conference COP26.
The SPIE conference marks a key milestone for the SEC as it moves out of lockdown, with the conference being the first since the COVID19 pandemic began. Delegates will once again have the opportunity to attend in-person research presentations and keynote speeches, as well has having invaluable time to network and discuss the numerous topics covered with their peers.
The conference will also include two leading exhibitions with product demos, industry presentations and technical workshops.
Karin Burger, Manager Europe at SPIE Europe added: 'It is wonderful to be bringing the SPIE community together in Glasgow this week. SPIE is an international membership society, serving scientists and engineers in industry, academia, and government, in a wide variety of fields, ranging from optics, photonics, quantum, astronomy, and many other light-based sciences. It is so important to be able to meet in person to network, learn, and make connections to drive our science forward. It is a great moment to be back doing events face to face.'
Kathleen Warden, Director of Conference Sales at SEC said: 'Today is a big moment for us. The pandemic has brought the importance of in person interaction into sharp focus over the last 18 months, and we couldn't be happier to be able to facilitate both the SPIE conference and the upcoming programme of conferences we have at the SEC. There is just no substitute for having people working with and learning from each other in the one space, and we're delighted to play our part in that.'
Space Satellites and Sustainability II is hosted in partnership with: Fraunhofer UK, KTN, Photonics Leadership Group, Censis, Technology Scotland, Association of Industrial Laser Users and Future Photonics Hub. It is sponsored by Visit Britain.