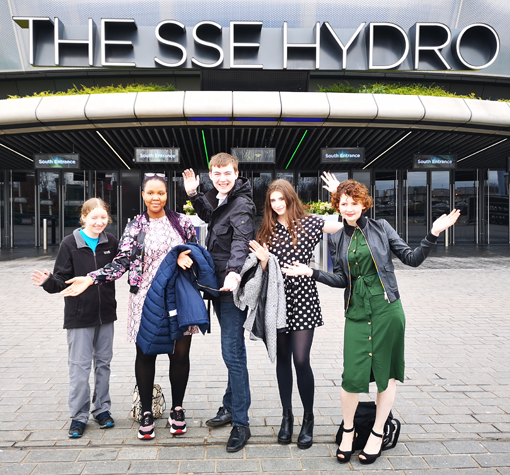 25 Mar
Winning team of youngsters celebrate at The OVO Hydro
The winning team of VentureJam 2018 celebrated their win last night by watching Blue Planet II Live In Concert at The OVO Hydro.
Now in its fourth year, VentureJam - delivered by Glasgow City of Science and Innovation and Young Scot - is the pioneering youth enterprise strand of VentureFest Scotland, the annual festival of discovery and innovation.
VentureJam 2018 inspired youngsters from all over Scotland to enter the challenge which ultimately saw teams of four or five working together to solve the issue of single use plastic in the events industry.
Working without financial and commercial boundaries, the groups came up with a huge range of ideas from innovative recycling signage, mascots and educational campaigns around waste disposal.
The winning idea came from team Fan-plastic Five, who created the Recycling Jukebox. The concept takes the original reverse vending machine model and combines it with the incentive of choosing your favourite encore track for the gig in the Hydro if you use it.
Fan-plastic Five consists of Mhairi McCann, Mary Olaleye, Christopher Winters, Mairaed Reid and Caitlin Ayres. Their prize included a tour of the iconic OVO Hydro, a meal at Clydebuilt and tickets to see Blue Planet II Live In Concert. To top it off, an inspirational video of the VentureJam event featuring the winning solution and ending with strong message urging viewers to take action on plastic, was shown during the interval to the audience in the bowl.
Speaking about the event, participant Christopher Winters, 18, said: "VentureJam has been a fantastic experience and I've been delighted to work with my teammates to win the amazing prize of coming to Blue Planet Live In Concert at The OVO Hydro – thanks to Young Scot and the venue for helping to create such a brilliant experience. We are really happy that people are thinking becoming more sustainable and how they can reduce their impact on the environment."
Louise Macdonald, Chief Executive of Young Scot said, "The innovation we see at VentureJam can have a powerful effect on the way we see sustainability and the challenges it presents. Scotland's young people are our innovators for now and the future and these ideas are the creative solutions the world can be inspired by"
Mark Laidlaw, Director of Operations at the SEC said: "We were delighted to support the VentureJam initiative – sustainability is a hot topic just now and it's fantastic to see so many youngsters getting involved in the programme."