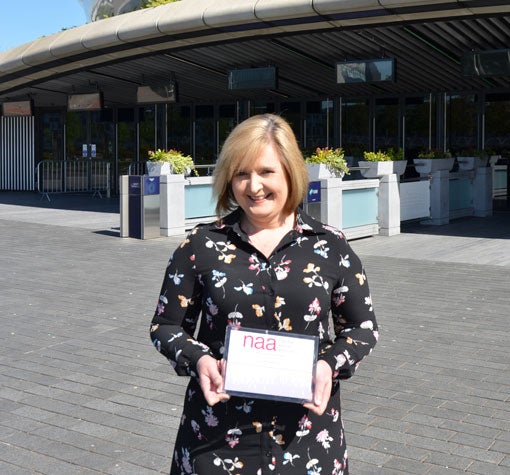 15 May
Top Accolade Awarded to Anne-Marie by National Arenas Association
The Scottish Event Campus (SEC) is delighted to announce that Anne-Marie Harwood, Market Research Manager for the SSE Hydro, SEC Armadillo and SEC Centre has been presented with the National Arenas Association's outstanding contribution award.
The award is in recognition of 18 years of service undertaking the Association's annual research project and is the first time a female has been the recipient of this prestigious accolade.
The award which were presented to Anne-Marie at the NAA's annual general meeting recognises someone who has made an outstanding contribution to the music industry or directly to the NAA itself.
Mark Laidlaw, Director of Operations at the SEC said:
"We are delighted that the NAA has acknowledged Anne-Marie's commitment to collating and presenting the association's annual research statistics, which she has done very diligently for the last 18 years. This research creates an extremely useful benchmark for the industry and helps shape trends and identifies areas of growth and future potential."
Martin Ingham, Chairman of the NAA said:
"The NAA's annual statistics are the definitive guide to the trends in the Arena industry, accounting for over 13.6m visits in 2017. Whilst we are indebted to staff in all venues for their assistance in providing the raw data, it is Anne-Marie's in-depth knowledge and enthusiasm that has been essential in developing the reporting and presentation of the information into ever more useful segments and reports over many years. We are absolutely delighted to recognise Anne-Marie's contribution to the Arena industry with this award."
Receiving the award Anne-Marie commented:
"It has been my pleasure to conduct the NAA's research for the past 18 years to witness the changes and growth in the arena industry through the figures. I am thrilled and honoured to accept this award and look forward to continuing to work the Association in the future.
Previous worthy recipients were: Matt Woolliscroft (2016), Pete Wilson & Dennis Arnold (2015), Geoff Huckstep (2014), Phil McIntyre (2013), Simon Moran (2012), Paul Latham (2011), Danny Betesh (2010) and David Vickers (2009)