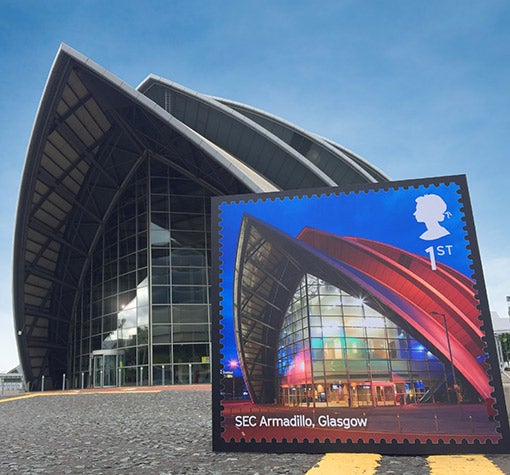 14 July
Stamp of approval for SEC's Armadillo
The Scottish Event Campus' Armadillo has been featured in the Royal Mail's latest Special Stamp set, which celebrates 10 buildings that represent the renaissance of contemporary architecture in the UK of recent years.
The SEC Armadillo sits alongside The Scottish Parliament building as the only two buildings in Scotland to be featured. The images capture the distinctive lines and shapes of the structures that have become famous landmarks renowned across the world.

Formerly known as the Clyde Auditorium, the SEC Armadillo was designed by architects Foster + Partners. An international conference centre with seating for up to 3,000 delegates, the structure comprises striking interlocking shapes that echo the shipbuilding traditions of the River Clyde and the industrial heritage of its site on Queen's Dock. A series of overlapping, aluminium-clad, framed 'hulls' wraps closely around the auditorium to minimise the building's volume, while creating a distinctive profile on the Glasgow skyline. Floodlit by night and reflecting sunlight by day, the building provides a symbolic form that has come to represent Scotland's largest city.
Completed in 1997, and intended as a landmark for the regeneration of this once industrial site and for Glasgow as a whole, the SEC Armadillo helped to launch a new wave of more expressive, freeform designs.
Peter Duthie, Chief Executive of The Scottish Event Campus, said: "We are delighted that the SEC Armadillo has been chosen to feature in this special series of stamps from the Royal Mail depicting one of the UK's landmark buildings. It is particularly fitting as our building celebrates its 20th anniversary later this year."
The special stamp set also features: the London Aquatics Centre; the Library of Birmingham; Giants' Causeway Visitor Centre, Northern Ireland; the National Assembly for Wales, Cardiff; the Eden Project, St Austell; the Everyman Theatre, Liverpool; the IWM North, Manchester and Switch House – now the Blavatnik Building, Tate Modern, London.