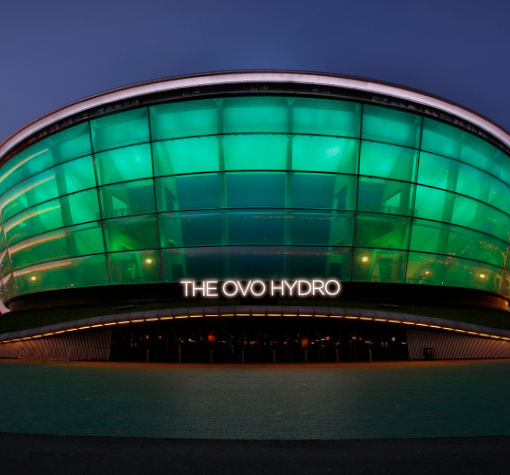 29 Apr
OVO Hydro is the First Arena in the World to Achieve 'A Greener Arena Certification'
The OVO Hydro has achieved A Greener Arena (AGA) certification for its commitment to sustainability. That's huge news because we are the first arena in the world to do so!

AGA is awarded by A Greener Festival (AGF), a not-for-profit company who have spent the last 15 years helping events, festivals and venues around the world – including massive festivals like Glastonbury, Primavera and Roskilde Festival – to reduce their environmental impact.

As well as emissions reductions and environmental impacts, AGA also look at people, inclusion and wellbeing when awarding certifications. They highlighted our drive to enhance local biodiversity, our use of 100% renewable electricity, elimination of single use plastic cups at live events, campus wide sustainable food strategy and expansion plans for electric vehicle charging points.

Being awarded A Greener Arena certification is a huge achievement for the OVO Hydro and wouldn't have happened without title partner OVO Energy. They supported our goal to achieve A Greener Arena certification through funding of specific carbon-reduction and environmental initiatives recommended as a result of the annual certification process, so fans and artists can experience the joy of live entertainment while minimising their impact on the environment.

This is not the end though! As part of the assessment, AGF will also share actionable recommendations with the OVO Hydro team that are designed to further evolve the venue's ongoing certification assessments in years to come. We are on a drive to become a net zero campus by 2030, a journey we look forward to sharing with everyone who visits our venue.