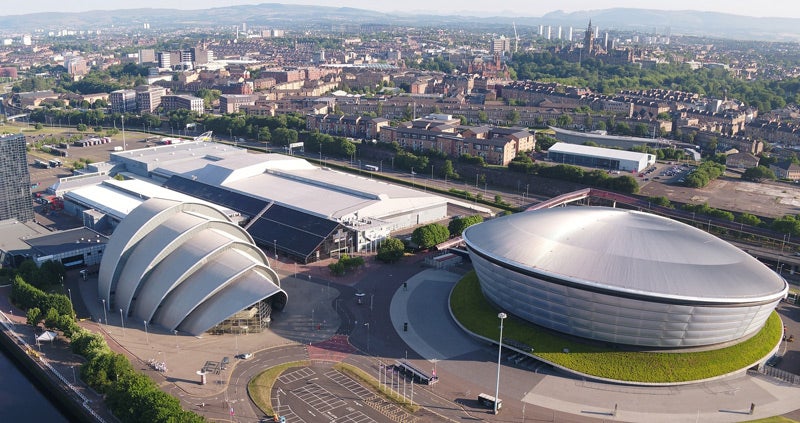 13 May
Glasgow wins Europe's largest congress on radiation oncology
Glasgow has been selected to host ESTRO's Annual Congress in 2023. Europe's largest meeting on radiation oncology, attracting over 6,000 participants, will take place at the Scottish Event Campus (SEC).
Professor Anthony Chalmers from the University of Glasgow worked closely with the SEC and Glasgow Convention Bureau to secure the event, competing with major cities from across Europe.
The selection of the location for the conference was based on two distinct elements - the logistical capacity to host this global event in Glasgow at the SEC, and more importantly, the co-creation of an engagement project led by Professor Chalmers. This engagement project will have a tangible impact on patient outcomes, delivering on ESTRO's vision: "Optimal Health for All, Together".
Professor Anthony Chalmers, Chair of Clinical Oncology at the University of Glasgow said: "We are thrilled that Glasgow has been selected as the host for ESTRO's Annual Congress. ESTRO's goal is to demonstrate progress in the optimal use of radiation oncology. The congress is a catalyst for us to deliver the local engagement project which aims to increase the use of radiotherapy for cancer patients across the West of Scotland.
"Winning the bid is a result of great teamwork between the Beatson West of Scotland Cancer Centre, the University of Glasgow and the Beatson Cancer Charity."
Kathleen Warden, Director of Conference Sales at the SEC, commented: "It's very exciting to be selected to host ESTRO's Annual Congress in 2023. This event creates a wonderful opportunity to showcase Glasgow's expertise and progressive approach to radiotherapy and oncology to a European audience. The event also demonstrates the value of medical conferences, which not only deliver great economic benefit, but also provide a platform for changes in health, and therefore, positively impacting society."
Head of Conventions at Glasgow Convention Bureau, Aileen Crawford, said: "Welcoming the prestigious ESTRO Congress to Glasgow is a great example of Team Glasgow working in partnership to offer a conference location that is truly aligned to the vision and mission of the association."