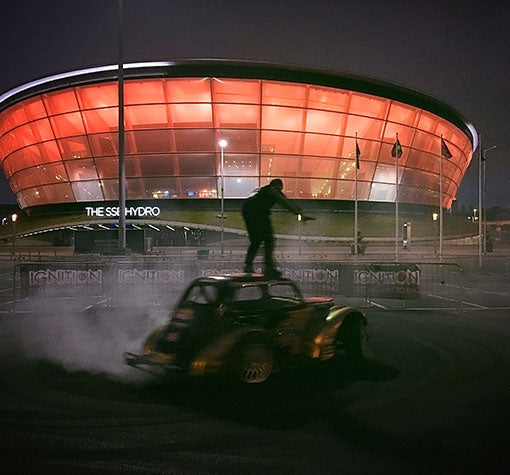 21 Apr
IGNITION Festival roars back into the SEC
This summer will see the IGNITION Festival of Motoring return for its second year at the Scottish Event Campus (SEC) from 4th to 6th of August. The entire campus and local surroundings will be filled with jaw-dropping car and bike stunts, high speed races and showcases of incredible motor vehicles.
Last year's event saw the creation of Glasgow's first ever specially constructed Street Circuit around the venue's roads and this is set to make a comeback. IGNITION promises to be bigger, better, louder, and faster for 2017, with even more fast cars, bikes and stunts than 2016.
Dan Thurlow, Director of Exhibitions at the SEC said: "It's fantastic to see IGNITION returning for another year after the success of 2016. It was a spectacular and highly creative event that has since won awards so full credit to the team at Brand Events. It also creates an event that's unique to Glasgow and gives the audience something they can't see anywhere else. It's what we as a venue and the city work hard to help attract and we want the IGNITION Festival to become one of the biggest events and most anticipated dates in the calendar of all motor sport enthusiasts.
"Few events utilise as much space as IGNITION, and it really showcases the capabilities that we have as a venue and as a team. We are really looking forward to working closely with Brand Events to deliver a show that's even more thrilling than last year."
Chris Hughes, CEO of Brand Events, added: "After how well last year's event went, it was a no-brainer to come back to the SEC. The facilities and the team are second to none and we're certain that this year will be bigger and better.
"The SEC campus lends itself perfectly to the ambitious plans for IGNITION and we can't wait to showcase what's set to be a spectacular show."
In celebration of this year's launch, IGNITION invited world famous stunt driver Terry Grant to attempt a world record of donuts whilst standing on top of a car in front of The SSE Hydro, which was lit in fiery orange for the occasion.
For more information on the event and to find out if the record was broken, visit: www.ignitionfestival.co.uk
Click here to see our IGNITION case study and video of Chris Hughes, CEO at Brand Events, interview at IGNITION 2016