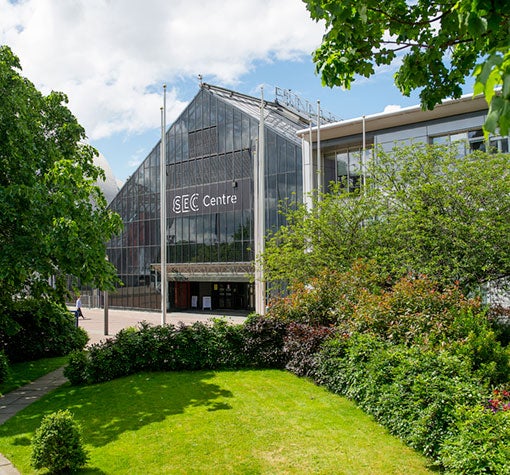 23 Nov
Scottish Event Campus Achieves Green Meetings Gold Award in Latest Sustainability Milestone
The Scottish Event Campus (SEC) has further underlined its commitment to sustainability by achieving the Green Meetings Gold Award – the initiative's highest attainment. The accreditation specifically recognises meetings and event venues, and measures sustainability standards ranging from energy, water, and waste through to catering, procurement, travel, awareness, communications, and community involvement.
The campus achieved a strong overall score, with a number of areas highlighted by assessors as particularly impressive including: the work the SEC is doing to support delegates in making more sustainable choices, commitment to promoting locally and sustainably produced food for staff and customer health, and green purchasing and supplier screening.
Earlier this year, the SEC also retained the organisation's Green Tourism Gold Award for the 13th year through Green Tourism's new, more comprehensive, assessment process, demonstrating once again the team's commitment and innovation in the field. It is also a founding partner of the industry's Net Zero Carbon Events initiative, which celebrates its one-year anniversary at COP27 this month.
Green Tourism Environment and Sustainability Assessor, Euan Haggart, commented: "Having already attained a Green Tourism Gold Award, The Scottish Event Campus has gained their Gold Green Meetings Standard. This achievement reflects the dedication and commitment from the whole team to upholding sustainability standards and progressing green eventing.
"The team excelled in all assessment goals, but were particularly exceptional in the provision and promotion of local, sustainable food and drink, as well as in ensuring staff and customer health and wellbeing. Their commitment to providing a sustainable venue for meetings and events should be highly commended."
Jennifer Ennis, Environment and Waste Manager, SEC, added: "We've been very open about our sustainability ambitions, and it means so much to us that we continue to attain the highest credentials. We're delighted to add the Green Meetings Gold Award to our Green Tourism Gold accreditation, and we hope that such achievements will give our client's confidence in both our commitment and understanding in addressing sustainability, so that they too can create experiences that consider both our environment and surroundings."
Just this year, the SEC announced its aspirations to be net zero carbon by 2030 and the team continues to make significant progress in offering sustainable, ethical and innovative solutions that include catering and waste management to energy use and community engagement.
The Live Entertainment arm of the business has eliminated single use plastic cups at live events through the introduction of reusable Stack Cups, saving 2 million cups per year. The OVO Hydro was the first arena in the world to achieve independent assessor A Greener Festival's "Greener Arena" certification in April 2022, and the business has been nominated in the Live Green Award category of the Live Awards 2022.
For more information on the SEC's sustainability strategy, click here.