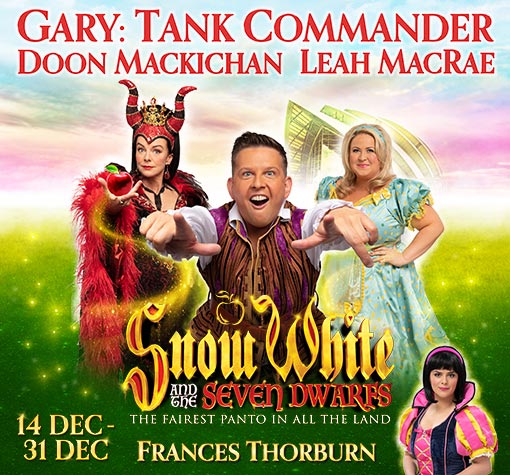 14 Dec 2019

13:00: Doors open 14:00: Snow White 16:35: Show ends

14 Dec 2019

18:00: Doors open 19:00: Snow White 21:35: Show ends

15 Dec 2019

12:00: Doors open 13:00: Snow White 15:35: Show ends

15 Dec 2019

16:00: Doors open 17:00: Snow White 19:35: Show ends

17 Dec 2019

12:00: Doors open 13:00: Snow White 15:35: Show ends

17 Dec 2019

18:00: Doors open 19:00: Snow White 21:35: Show ends

18 Dec 2019

Show time 1pm

18 Dec 2019

Show time 7pm

19 Dec 2019

Show time 1pm

19 Dec 2019

Show time 7pm

21 Dec 2019

Show time 2pm

21 Dec 2019

Show time 7pm

22 Dec 2019

Show time 1pm

22 Dec 2019

Show time 5pm

23 Dec 2019

Show time 2pm

23 Dec 2019

Show time 7pm

24 Dec 2019

Show time 1pm

24 Dec 2019

Show time 5pm

26 Dec 2019

Show time 2pm

26 Dec 2019

Show time 7pm

27 Dec 2019

Show time 2pm

27 Dec 2019

Show time 7pm

28 Dec 2019

Show time 2pm

28 Dec 2019

Show time 7pm

29 Dec 2019

Show time 1pm

29 Dec 2019

Show time 5pm

30 Dec 2019

Show time 2pm - BSL & Autism friendly Performance (booking info below)

30 Dec 2019

Show time 7pm

31 Dec 2019

Show time 1pm

31 Dec 2019

Show time 5pm
View All Showings
*Event timings issued are a guideline only and may be earlier or later than originally published.
Group Offers
Group discounts available for Snow White - simply contact our team on 0844 395 4010 or email [email protected]
Attention! Gary: Tank Commander returns to the SEC having enlisted
Two Doors Down star Doon Mackichan to join him in Snow White and the Seven Dwarfs
The SEC Armadillo will be serving up plenty of cheesy pasta this Christmas as the venue have announced Gary: Tank Commander will be back and leading the cast of this year's spectacular pantomime Snow White and the Seven Dwarfs to victory. Joining him will be Two Doors Down comedian and actress Doon Mackichan, with Leah MacRae and Frances Thorburn.
Snow White and the Seven Dwarfs will be lavishly brought to life in a production packed full of magical mirrors, seven friendly dwarfs, an abundance of comedy, sensational song and dance and jaw-dropping 3D special effects, for which the annual SEC pantomime is so well known and loved.
Edinburgh-born Greg McHugh trained at the Royal Scottish Academy of Music and Drama. Alongside writing and starring as Gary McLintoch in Gary: Tank Commander, for which he was nominated for a Scottish BAFTA. Greg also reprised the role live on stage at the Hydro for three sold out nights and starred in the BBC documentary Gary Goes to Hollywood. Greg is also well-known for playing Howard in Fresh Meat, a part he played from 2011 to 2016 and Eddie Scott in The A Word and has appeared in A Discovery of Witches for Sky One and most recently starred in Traitors for Channel 4. On a break from military duties, Gary will be swapping the 104th Royal Tank Regiment for the Armadillo stage and starring as Gary Muddles, best friend to the Princess Snow White.
Emmy Award winner Doon Mackichan will be swapping her signature Two Doors Down vape for a poisoned apple and will star alongside Greg as the Wicked Queen. Star of hit Channel 4 comedy sketch show Smack the Pony, Doon regularly appears on television, film and on stage across the country. In addition to working with Steve Coogan on Alan Partridge, she has starred in Toast of London, Plebs and Brass Eye and competed on Celebrity Fame Academy for the BBC. She is soon to star in the West End opposite Hollywood star John Malkovich in David Mamet's play Bitter Wheat. Doon is best known for playing Cathy Whyte in Two Doors Down, the award-winning sitcom she has starred in for four series.
Joining them as Snow White's Nanny will be River City star, comedian and singer Leah MacRae, who also co-starred with Greg McHugh in Gary: Tank Commander. Leah has been a regular on River City for over four years, additionally appearing in episodes of Rab C Nesbitt, Comedy Lab and Two Pints of Lager and a Packet of Crisps. She also starred as Jenny in the BBC sitcom Grownups opposite Sheridan Smith. Leah regularly tours Scotland with her comedy and music productions and is currently on the road with her self-penned, one woman show Leah McRae - My Big Fat Fabulous Diary in which she shares hilarious tales from her past.
Best known for her role as Kim Monroe in BBC's River City, Frances Thorburn also returns to the SEC having played the Fairy Godmother in Cinderella last year. She was in the original production of Glasgow Girls for NTS and also featured in Doris, Dolly and the Dressing room Divas at Oran Mor and the Edinburgh Festival. Similarly, on stage, she has played Marilyn Monroe at the Citizen's Theatre, Judy Garland at Oran Mor and Dusty Springfield in A Play, a Pie and a Pint. Frances also appeared in a full season at Shakespeare's Globe Theatre and in Fiddler on the Roof at the Savoy Theatre in the West End.
BSL & Autism Friendly Performance

We're pleased to confirm that the SEC Armadillo will have additional measures and facilities in place for the panto performance on 30 Dec 2pm, to make attending easier for visitors with Autism or other Sensory Processing Disorders. While the performance will remain the same, we'll be providing the following to allow visitors to make the performance and visit accessible:

• A limited supply of sensory packs. More information is available here
• Sunflower lanyards available to alert venue staff to hidden disabilities and provide appropriate support if needed.
• Dedicated seating area on level 1/2 of the venue with nearby entrance/exit points.
• Quiet room on level 1 of the venue.
• Hand-drier-free toilets adjacent to dedicated seating area.

The show will be a sign language interpreted show.

If you would like to book for this show please call our accessible booking line on 0800 952 0110, or if you would like further information please contact [email protected]
14 - 31 Dec 2019
SEC Armadillo


£18.75 - £33.50
(inc admin fee) + fulfilment

GROUP DISCOUNTS AVAILABLE

Available from the SEC Box Office:
0844 395 4000*

*Calls will cost 7 ppm plus your network charge

All ages