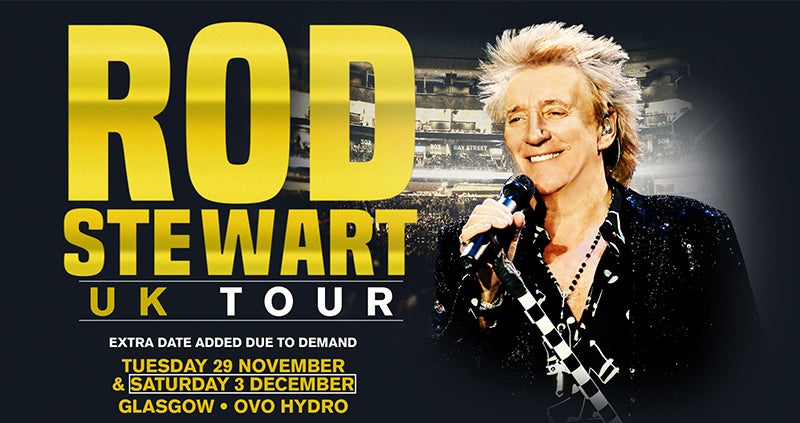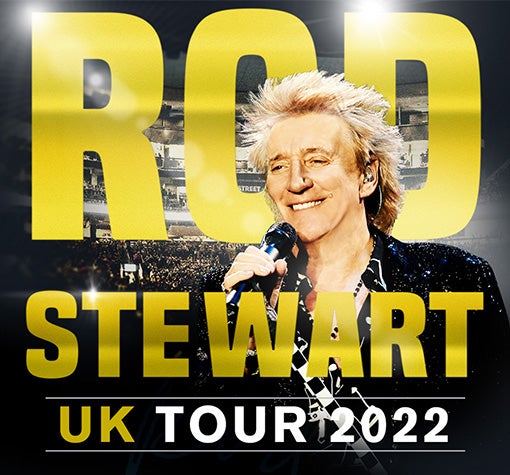 29 Nov 2022

Showtimes will be released approximately 3 days before the date of the event.

03 Dec 2022

Extra Date Added - On Sale 9am Friday 25 March
*Event timings issued are a guideline only and may be earlier or later than originally published.
Extra date added due to demand - Saturday 03 December 2022
On sale 9am Friday 25 March

International rock legend Sir Rod Stewart CBE extends his U.K. 2022 Arena tour with additional shows in London, Glasgow and Birmingham and a new show in Aberdeen. Following the release of his 31st studio album THE TEARS OF HERCULES, Sir Rod Stewart will be taking his distinctive raspy vocals and massive catalogue of hits on the road later this year.
Following the success of his previous sold-out tours, Rod's 2022 shows promise to be filled with show-stopping classics and new hits in his unmissable captivating style. Rod Stewart is one of the best-selling artists in the history of recorded music, with an estimated 250 million records and singles sold worldwide, his performance will include fan favourites from across his impressive career, as well as, being the first to hear live performances of tracks from his most recent album 'THE TEARS OF HERCULES'
Rod Stewart has had it all. He's been lauded as the finest singer of his generation; he's written several songs that turned into modern standards; earned countless of the industry's highest awards, among them, two inductions into the Rock and Roll Hall of Fame, the ASCAP Founders Award for songwriting, New York Times bestselling author, Grammy™ Living Legend, and in 2016 he officially became 'Sir Rod Stewart' after being knighted by Prince William at Buckingham Palace for his services to music and charity.
On the album, Sir Rod Stewart's rekindled love of songwriting grows stronger on his 31st studio album, THE TEARS OF HERCULES. It's Stewart's fourth new album of original songs since 2013 when he reconnected with his songwriting muse to record Time, the chart-topping album which entered the Top 10 in the US and ten countries worldwide, including #1 in the U.K., where it's been certified platinum double-platinum. For his latest, Stewart wrote nine of the album's 12 songs, including the first single, "One More Time". THE TEARS OF HERCULES is a project close to Stewart's heart, especially the song "Touchline," which he dedicated to his father, who taught him and his brothers to love football, a tradition Sir Rod has passed down to his sons. In the album's sleeve note, Stewart says he's proud of the album. "I've never said this before about any previous efforts, but I believe this is by far my best album in many a year," he writes.
Important Ticket Information

Please note: The SEC Box office is temporarily closed. We are currently processing all ticket purchases online rather than at the SEC Box Office for the foreseeable future.

Accessible tickets can be booked online, or you can call 0141 576 3230 (replaces 0800 952 0110 temporarily) (open Mon-Fri 9am-2pm).

COVID-19 Customer Update

For more information on COVID safety measures in place and what can be expected when you attend events, please check here.

Digital Tickets

Your mobile is now your ticket.

Delivering the best purchase experience, digital tickets removes the inconvenience of visiting the box office in person or making a call to book. Purchase via ovohydro.com or sec.co.uk and your tickets will be delivered straight to your device, when available. Your tickets will be stored in your TM account and can be accessed via the TM mobile app.

No more worrying if tickets will arrive in the post or hoping you get them in time for that important gift. The stress of losing or forgetting your tickets will be replaced with the confidence of knowing that they are stored securely on your device and are available for you at any time.

Transfer tickets quickly and easily to all members of your party, giving you the freedom to plan your journey to the venue. No need for everyone to arrive together or wait for that friend who is held up.

For more information about digital tickets, please click here.

Accessible Ticket Booking

Customers who wish to buy tickets for accessible positions can do so online via our websites (ticketing powered by Ticketmaster), or by using our accessible booking line on 0141 576 3230 (replaces 0800 952 0110 temporarily) (open Mon-Fri 9am-2pm).
29 Nov & 03 Dec 2022
OVO Hydro

£63.65 - £177.15

(inc admin fee) + fulfilment

Ticket limit: 6 per person