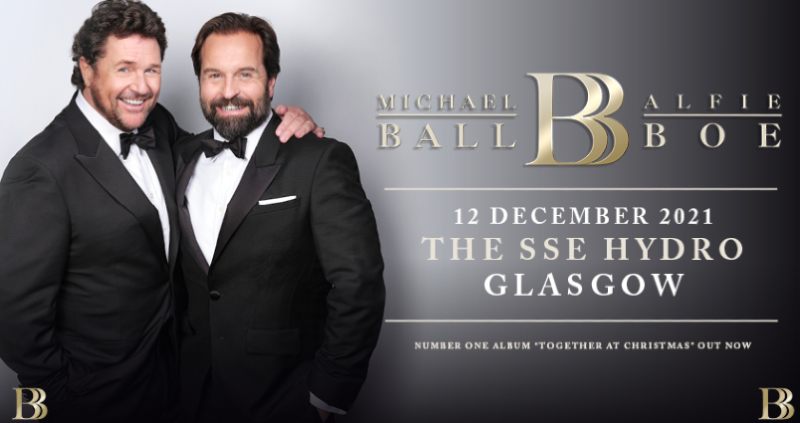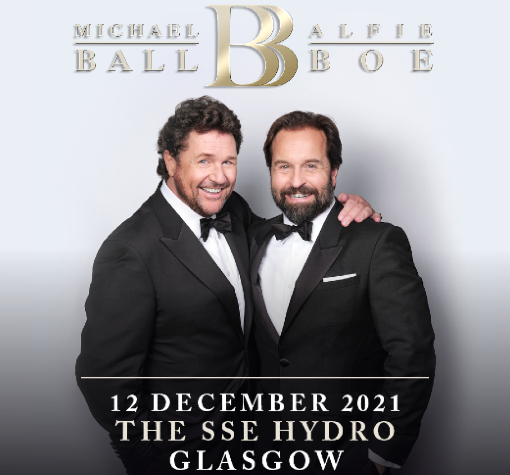 Michael Ball & Alfie Boe
Together at Christmas
12 Dec 2021 Doors: 18:30

Showtimes will be released approximately 3 days before the date of the event.
*Event timings issued are a guideline only and may be earlier or later than originally published.
They're back! Just in time for the festive season! The nation's favourite and most-loved musical duo Michael Ball and Alfie Boe join forces again for a magical new album 'Together at Christmas'. They also announce a UK Arena tour in 2021, including a date at the OVO Hydro on 12 December 2021.
Two of the greatest voices in the world, Michael and Alfie are back doing what they love the most, but this time with an album packed full of holiday cheer!
The record has everything you could want from a Christmas album, and more. The pair breathe new life into favourites such as 'It's Beginning to Look A Lot Like Christmas', 'Silent Night' and 'Have Yourself A Merry Little Christmas', to name a few. Gregory Porter joins on 'The Christmas Song', and the duo perform the heart-warming 'My Christmas Will Be Better Than Yours' – a brand new original song.
Speaking of the album, Michael and Alfie say, [Michael] "Me and Alfie, together at Christmas, I can't think of anything better! In these strange times, we wanted to create an album of songs that we like to listen to at Christmas, plus a few surprises along the way, including an original song! Hopefully our fans will love listening to this for many years to come. This year it's certainly going to be a Christmas we'll never forget. Can't wait to see you all on tour in 2021"
[Alfie] "Keeping the Christmas spirit alive seems more important than ever this year. We wanted to create a festive album that brings joy, love and happiness. Spreading the Christmas cheer is something we all need a little extra of during these challenging times, so however people are going to be able to spend their holiday season, we'll be right here ' Back Together At Christmas' with our fans who we are incredibly grateful for and can't wait to see in person when we're back for a brand new tour in 2021"
'Together at Christmas' follows the phenomenal success of the duo's previous three duet albums, their debut 'Together', which became the UK's best-selling album of 2016 and beat the likes of Little Mix and The Rolling Stones to the Christmas No.1 spot, 'Together Again' which brought the pair yet another No.1 album in 2017, and 'Back Together' which landed them the No.2 spot in the Official Albums Chart. As a duo, they have now sold over 1.3 million albums in the UK, received two Classic Brit Awards, sold out two headline arena tours and presented three ITV Specials.
After meeting in a production of Kismet at the London Coliseum over 10 years ago, it is the combination of their incredible voices, instant camaraderie and loveable personalities which proves to be irresistible to countless fans across the nation.
COVID-19 Customer Update

For more information on COVID safety measures in place and what can be expected when you attend events, please check here.

Important Ticket Information

Please note: The SEC Box office is temporarily closed. We are currently processing all ticket purchases online rather than at the SEC Box Office for the foreseeable future.

Accessible tickets can be booked online, or you can call 0141 576 3230 (replaces 0800 952 0110 temporarily) (open Mon-Fri 9am-2pm).

Digital Tickets

Your mobile is now your ticket.

Delivering the best purchase experience, digital tickets removes the inconvenience of visiting the box office in person or making a call to book. Purchase via ovohydro.com or sec.co.uk and your tickets will be delivered straight to your device, when available. Your tickets will be stored in your TM account and can be accessed via the TM mobile app.

No more worrying if tickets will arrive in the post or hoping you get them in time for that important gift. The stress of losing or forgetting your tickets will be replaced with the confidence of knowing that they are stored securely on your device and are available for you at any time.

Transfer tickets quickly and easily to all members of your party, giving you the freedom to plan your journey to the venue. No need for everyone to arrive together or wait for that friend who is held up.

For more information about digital tickets, please click here.
12 Dec 2021
OVO Hydro

£45.40 - £90.80

(inc admin fee) + fulfilment

No counter sales – see Important Ticket Information tab below.

Accessible Ticket Booking Line:
0141 576 3230 (replaces 0800 952 0110 temporarily) (open Mon-Fri 9am-2pm)

Ticket limit: 6 per person