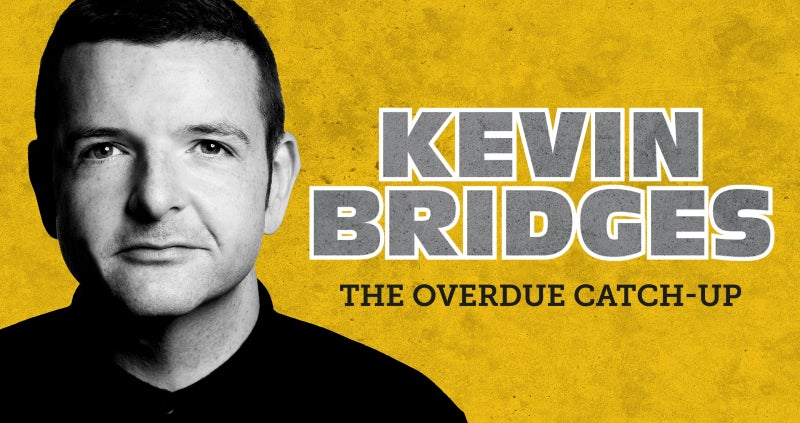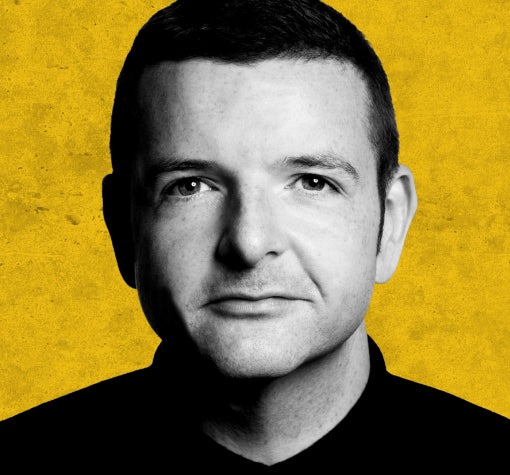 Kevin Bridges: The Overdue Catch-Up
01 Sep 2022 Doors: 6.30pm

Start 8pm

02 Sep 2022 Doors: 6.30pm

Start 8pm

03 Sep 2022 Doors: 6.30pm

Start 8pm

04 Sep 2022 Doors: 6.30pm

Start 8pm

08 Sep 2022 Doors: 6.30pm

Start 8pm

09 Sep 2022 Doors: 6.30pm

Start 8pm

10 Sep 2022 Doors: 6.30pm

Start 8pm

11 Sep 2022 Doors: 6.30pm

Start 8pm

14 Sep 2022 Doors: 6.30pm

Start 8pm

15 Sep 2022 Doors: 6.30pm

Start 8pm

16 Sep 2022 Doors: 6.30pm

Start 8pm

17 Sep 2022 Doors: 6.30pm

Start 8pm

22 Sep 2022 Doors: 6.30pm

Start 8pm

23 Sep 2022 Doors: 6.30pm

Start 8pm (This performance will be recorded)

24 Sep 2022 Doors: 6.30pm

Start 8pm (This performance will be recorded)

25 Sep 2022 Doors: 6.30pm

Start 8pm
View All Showings
*Event timings issued are a guideline only and may be earlier or later than originally published.
Kevin Bridges:
The Overdue Catch-Up

"A comedy masterclass" The Herald
"Blessed with that extra smidgin of God-given talent" The Times
Kevin Bridges returns with his hotly-anticipated new show. ''An Overdue Catch-Up' welcomes audiences into the mind of one of the sharpest comedy talents the UK has to offer. With a career spanning 18 years Kevin Bridges already has the life experience of a man twice his age, helping him to hit the nail on the head with his shrewd outlook on the modern world.
Bridges has previously broken box office records with his last two tours, 'Brand New' (2018) and 'A Whole Different Story' (2015) going on to win awards from Ticketmaster and Ents24 for Fastest Selling Ticket of the Year. He was also crowned by Ticketmaster fans as UK'S Ticket of the Year in 2018.
Kevin's last two tours have accumulated just under 1,000,000 tickets sold across the world including record 35 sold-out-shows at Glasgow's iconic Hydro, awarding him the most shows at that venue for one artist.
Don't miss the chance to catch one of the most astute observational comedians around today at the top of his game.
"Masterful stuff" The Guardian
"...an edge seldom found in mainstream comics" Mail On Sunday
'It's his eye for details that has elevated him to a MUST-SEE act' The Daily Mirror
Important Ticket Information

Please note: The SEC Box office is temporarily closed. We are currently processing all ticket purchases online rather than at the SEC Box Office for the foreseeable future.

Accessible tickets can be booked online, or you can call 0141 576 3230 (replaces 0800 952 0110 temporarily) (open Mon-Fri 9am-2pm).

Covid-19 Customer Update

For more information on COVID safety measures in place and what can be expected when you attend events, please check here.

Digital Tickets

Your mobile is now your ticket.

Delivering the best purchase experience, digital tickets removes the inconvenience of visiting the box office in person or making a call to book. Purchase via ovohydro.com or sec.co.uk and your tickets will be delivered straight to your device, when available. Your tickets will be stored in your TM account and can be accessed via the TM mobile app.

No more worrying if tickets will arrive in the post or hoping you get them in time for that important gift. The stress of losing or forgetting your tickets will be replaced with the confidence of knowing that they are stored securely on your device and are available for you at any time.

Transfer tickets quickly and easily to all members of your party, giving you the freedom to plan your journey to the venue. No need for everyone to arrive together or wait for that friend who is held up.

For more information about digital tickets, please click here.

Accessible Ticket Booking

Customers who wish to buy tickets for accessible positions can do so online via our websites (ticketing powered by Ticketmaster), or by using our accessible booking line on 0141 576 3230 (replaces 0800 952 0110 temporarily) (open Mon-Fri 9am-2pm).
01 - 25 Sep 2022
OVO Hydro

£29.60 - £63.65
(inc admin fee) + fulfilment

Ticket limit: 6 per person

Strictly 14+ show will contain swearing and adult content. No one under 14 will be admitted even if accompanied by an adult.