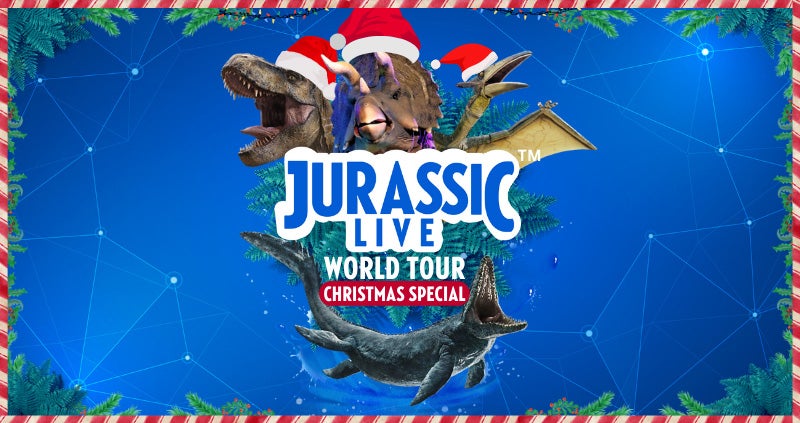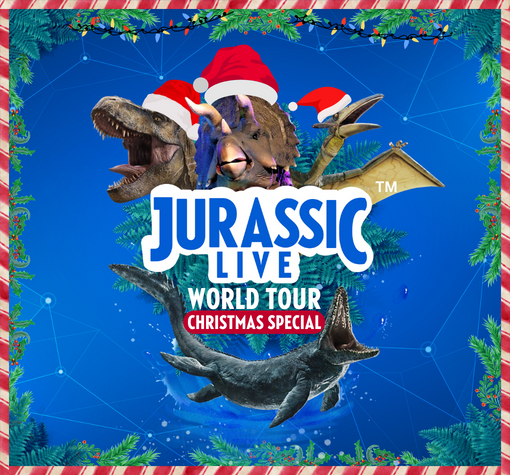 Jurassic Live Christmas Special
29 Dec 2023 Doors: 11am

Start 12pm

29 Dec 2023 Doors: 4pm

Start 5pm

30 Dec 2023 Doors: 10am

Start 11am

30 Dec 2023 Doors: 3pm

Start 4pm

*Event timings issued are a guideline only and may be earlier or later than originally published.
THE JURASSIC LIVE WORLD TOUR ARRIVES IN GLASGOW THIS CHRISTMAS!
The world's leading dinosaur show is back in Glasgow this Christmas. See our life-sized, monstrous beasts up close in this award winning festive all star spectacular. Exclusively featuring the world's only Mosasaur (Brand new for 2024), the world's last flying Pterodactyl and more dinosaur species than any other show on earth! Jurassic Live is the UK's most interactive theatre show where audiences become part of the dinosaur adventure.
THE SHOW
Aimed at families and celebrating the festivities, Jurassic Live takes you on a festive musical journey as you join little Amber, Ranger Joe, Ranger Nora & the rest of the Jurassic Live rangers to help save the day from an evil man who is trying to shut down the Jurassic facility. With lots of audience participation and fun with your favourite comedic rangers on stage alongside dinosaur favourites such as Trixie the Triceratops, Herbie the Stegosaurus, Nessie the Apatosaurus, Rocky the Velociraptor, Bash the Stigimoloch and Suzie.. the world's largest Tyrannosaurus Rex and many more!
NEW WORLD FIRST
We are thrilled to announce for 2024... the Tylosaurus, a genus of Mosasaur and the largest predatory marine reptile to ever grace our oceans. It is the largest marine puppet ever made and the only one of its kind in theatres anywhere in the world. See it swim in its gigantic purpose built Jurassic tank onstage and be warned.. if you sit near the front...you WILL get wet!!!
PREHISTORIC PTEROSAURS
See our Pterodactyl, Phoenix fly around the stage with a ranger on his back in this spectacular, special effect. You won't see this anywhere else on earth and it really is a sight to behold.
Sensory warning
Please note this event features the use of strobe lighting and pyrotechnics. This show is aimed at families and is suitable for those aged 3+, but does feature a mild scare factor and scenes using dart guns and scenes where rangers' lives are temporarily in danger.
Accessible Ticket Booking

Customers who wish to buy tickets for accessible positions can do so online via our websites (ticketing powered by Ticketmaster), or by using our accessible booking line on 0141 576 3230 (open Mon-Fri 9am-2pm).

Digital Tickets

We are launching Safetix on events with mobile ticketing. For more information on Safetix click here.

Your digital tickets are unique to you. They can't be copied, stolen or used as a screenshot and are always stored in your online account, safe and secure, wherever you are.

Your mobile is now your ticket.

Delivering the best purchase experience, digital tickets removes the inconvenience of visiting the box office in person or making a call to book. Purchase via OVOhydro.com or sec.co.uk and your tickets will be delivered straight to your device, when available. Your tickets will be stored in your TM account and can be accessed via the TM mobile app.

No more worrying if tickets will arrive in the post or hoping you get them in time for that important gift. The stress of losing or forgetting your tickets will be replaced with the confidence of knowing that they are stored securely on your device and are available for you at any time.

Transfer tickets quickly and easily to all members of your party, giving you the freedom to plan your journey to the venue. No need for everyone to arrive together or wait for that friend who is held up.

For more information about digital tickets, please click here.
29 - 30 Dec 2023
SEC Armadillo

£18.75 - £58.45

£16.50 - Restricted View Seating
(inc admin fee) + fulfilment

CHILDREN UNDER 3 YEARS OF AGE DO NOT REQUIRE A TICKET FOR THE SHOW, AS THEY CAN SIT ON THE ADULTS KNEE AND DO NOT REQUIRE A SEAT