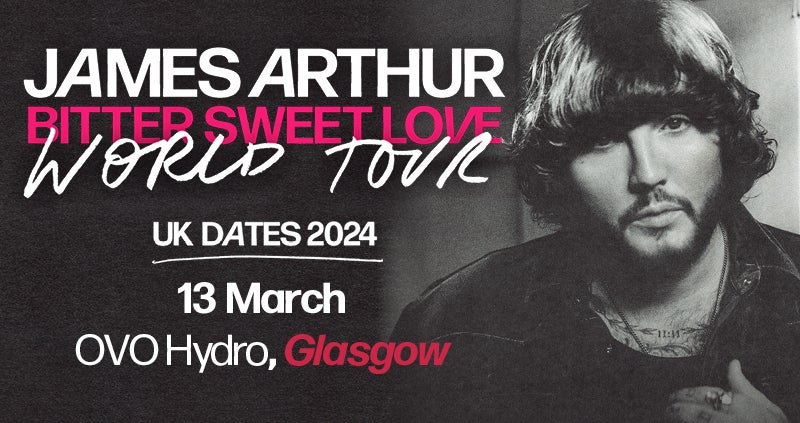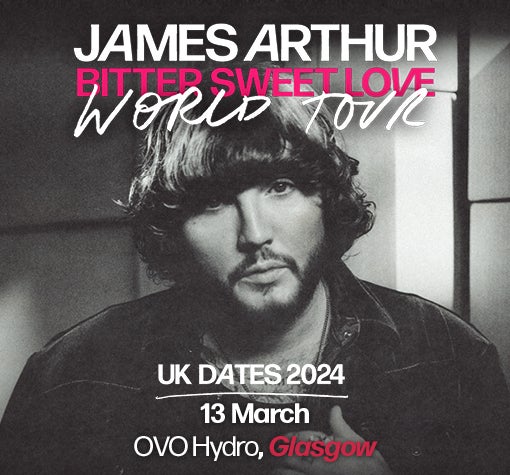 13 Mar 2024 Doors: 6.30pm

Showtimes will be released approximately 3 days before the date of the event.
*Event timings issued are a guideline only and may be earlier or later than originally published.
Following his recent return with new tracks 'Blindside' & 'A Year Ago', James Arthur announces his fifth, brand new studio album Bitter Sweet Love - out January 26th, 2024.
James also announces his return to the stage with a huge UK & European tour that hits the UK in March next year for a run of 8 huge arena shows.
As well as featuring the two recently released singles, Bitter Sweet Love is James back to his very best, producing thirteen bites of world class music. After being on stage, it struck him how his fifth album should sound. A sold-out crowd was singing along to his hits, immersed in the emotion that James could hear in his own voice.
Within days of the tour ending in the States, James began sessions with different producers to see who could click with his vision. His final stop was in L.A. with Steve Solomon, with whom he co-wrote his 2016 megahit 'Say You Won't Let Go'.
Back in Britain, James attempted to write with more producers, but none came close to his bond with Steve, who flew over to finish the album at Miloco Studios in South London last summer, and produce a mature body of work, full of depth and oozing the impeccable songwriting quality that has defined James's esteemed career to date.
The Middlesbrough-born, recent Brit Billion-certified artist has scored 4 top 10 albums, with 2016's Back From The Edge hitting the Number 1 spot and over his career has collaborated with the likes of Anne-Marie, Sigala, Rudimental, Marshmello & many more.
James is one of the world's biggest streaming artists, with over 38 million monthly listeners on Spotify alone. 'Say You Won't Let Go' became his breakthrough hit in the US. It was officially the UK's most streamed song in 2016 and has gone on to be enjoyed via 4 billion streams while the song's official video has achieved 1.5 billion views on YouTube. Earlier this year, the track became his first RIAA Diamond Single with 10 million certified units – making James one of just 100 recipients of an RIAA Diamond Single certification in the programme's history.
Other huge hit singles include: 'Impossible', 'Can I Be Him', 'Sun Comes Up', 'Naked', 'Empty Space', 'Rewrite The Stars', 'Falling Like the Stars', 'Train Wreck' and 'Lasting Lover', which are all certified platinum records. The song Cars Outside is currently becoming another global hit for James.
Back from the Edge was released on October 28, 2016 and entered the UK Albums Chart at #1. James' last album, 2021's It'll All Make Sense In The End, was a lockdown project recorded at home that leant heavily on programmed beats.
"The more albums you make and the more success you have, the more the pressure tends to be upon you. But I genuinely felt like a kid again, just making music I loved, not worried about trying to please everyone."

Digital Tickets

We are launching Safetix on events with mobile ticketing. For more information on Safetix click here.

Your digital tickets are unique to you. They can't be copied, stolen or used as a screenshot and are always stored in your online account, safe and secure, wherever you are.

Your mobile is now your ticket.

Delivering the best purchase experience, digital tickets removes the inconvenience of visiting the box office in person or making a call to book. Purchase via OVOhydro.com or sec.co.uk and your tickets will be delivered straight to your device, when available. Your tickets will be stored in your TM account and can be accessed via the TM mobile app.

No more worrying if tickets will arrive in the post or hoping you get them in time for that important gift. The stress of losing or forgetting your tickets will be replaced with the confidence of knowing that they are stored securely on your device and are available for you at any time.

Transfer tickets quickly and easily to all members of your party, giving you the freedom to plan your journey to the venue. No need for everyone to arrive together or wait for that friend who is held up.

For more information about digital tickets, please click here.

Accessible Ticket Booking

Customers who wish to buy tickets for accessible positions can do so online via our websites (ticketing powered by Ticketmaster), or by using our accessible booking line on 0141 576 3230 (open Mon-Fri 9am-2pm).
13 Mar 2024
OVO Hydro

£32.95 - £114.10
(inc admin fee) + fulfilment

Ticket Limit: 4pp

U14S WITH ADULT 18+