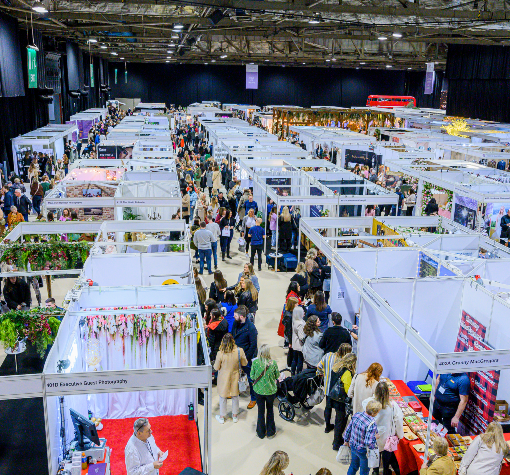 05 Sep
Scottish Event Campus Throws Support Behind Exhibition News Indy Conference
The Scottish Event Campus (SEC) has announced its sponsorship of the 2023 Exhibition News Indy Conference. The venue, which attracted two million visitors last year, has long standing relationships with numerous independent organisers across a host of consumer shows, some stretching back as far as 29 years.
The SEC has recently added 20 new shows to its roster from independent organisers including GoGreen Scotland, who chose the venue due to its commitment to building a more sustainable events industry and Net Zero 2030 ambitions.
The SEC prides itself on its flexibility, which has allowed it to attract a hugely diverse roster of independent shows, which now account for almost of 80% of Exhibitions revenue.
Simon Burns, Managing Director of ICHF Events, has worked with the venue for nearly three decades: "The Scottish audience is hugely important to ICHF bringing our focused, special-interest shows to a UK wide audience putting ICHF in a unique position of giving small independent craft exhibitors from around the country access to a thriving market."
"As an independent organiser the venue is key when considering where to hold an event and is a true partnership to the success of any exhibition. Transport routes by road and rail to the rest of the country, hassle free build-up and break-down for our exhibitors, plenty of on-site parking, good food offering and break-out spaces as well as a well-kept destination style place with plenty of hotel rooms near-by make the SEC the natural choice
"The venue team are all incredible from carpark and cleaning staff to operations and management. What I love is the length of service that so many of the team have been with the SEC giving us as organisers stability and familiarity on every visit."
Dan Thurlow, Director of Exhibition Sales at the SEC, commented on the importance of independents to the venue: "We've made it our business to help our clients firstly understand, and secondly capitalise on the hugely diverse audience they have to engage here in Scotland. Independent organisers are crucial to this and, in fact, they account for the majority of our shows and a substantial portion of our revenue from an exhibitions point of view."
Advantageously, the venue even has its own in house organiser in QD Events, which runs the Scottish Wedding Show, Caravan Show and IRN-BRU Carnival amongst others.
Greg Cherry, Managing Director at QD Events, values the SEC's commitment to constantly elevate its offering: "As one of the largest event spaces in Scotland, and easy transport links. we wouldn't look anywhere else to host our events. Particularly with IRN-BRU Carnival, the event takes over the whole SEC Centre for nearly four weeks, and working with the venue team to help us deliver this iconic event gives us the confidence to ensure we can create a better event year on year for the Scottish audience.
"The team are always keen to help us elevate our events across many different disciplines, from operations, technical, marketing and catering. The teams are easy to communicate with and are always happy to help solve any challenges or find new creative ways we can make the experience better for our audiences. They are always keen on hearing feedback to continually improve their offering for clients – few other venues want to adapt their current processes to fit ever-evolving needs. We feel we can be fully transparent with the venue and look forward to strengthening our relationship with them."
Dan continued: "Working so closely with QD events, a team of just 13, means we are uniquely positioned to understand the challenges their industry peers face. Many of the shows coming to the SEC are either new launches or regional versions of existing brands.
"Launching is always a challenge, even more so for the independent, so we offer support in numerous different ways from market research, in house marketing and PR support and flexible payment plans. We help connect clients to the city, Scottish Government and our broader network of trade body contacts for endorsement, content partners, marketing channels and potentially financial support."
ACME Comic Con is one of the SEC's more recent independent clients, having partnered with the venue for the last two years. Producer Sha Nazir said: "The Scottish audience has proven hugely valuable to us, particularly in the first stages of coming out of the pandemic. We didn't have to build it, it was already there for us.
"It's crucial to use a venue to the best of its ability to maximise your commercial impact, and the SEC team's advice pre, during and post-event has been invaluable in knowing how best to use their spaces within the requirements of Acme Comic Con."
The SEC sits firmly at the centre of Glasgow' wider events ecosystem, and supports the city's ambition to attract shows, part of the economic development strategy. The campus contributed £428m of net additional spend in Glasgow in 2022.
Councillor Susan Aitken, Leader of Glasgow City Council commented: "Glasgow is set up to and thrives on welcoming events to the city. From large scale sports competitions, peripatetic conferences, and niche exhibitions, they enrich the lives of our population and are a vital part of our economic growth. We value the hard work of those organisers, some of whom we know are small business themselves and continue to support in all ways we can".
Get in touch with our Exhibitions Sales Team to discuss how you can tap into the opportunity in Scotland.