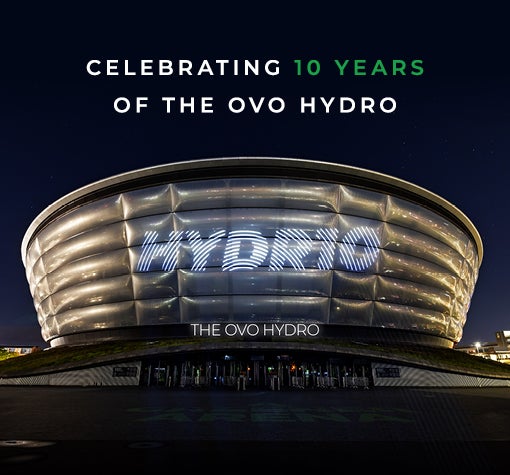 14 Sep
OVO Hydro Gears Up To Celebrate 10th Birthday
Scotland's Home of Live Entertainment Launches 10th Birthday Season
The OVO Hydro has today kicked off its 10th birthday season with the launch of HYDR10 – a celebration of the last decade at one of the world's busiest and best venues. The season has commenced with the launch of a short film which captures key moments from across the years, beautifully projected onto the iconic exterior and soundtracked by Glasgow favourite Gerry Cinnamon's track 'Ghost'.
Over the next month, the Scottish Event Campus powerhouse invites fans to join the HYDR10 celebrations as they welcome acts including Shania Twain, Busted, and New Order to help raise the roof on a monumental moment for Scotland's home of live entertainment.
Alongside the programme of stellar performances, HYDR10 includes a host of exciting activities with fans being treated to a special edition podcast series with some of Scotland's favourite stars plus a commemorative photography installation and a money-can't-buy competition with everything to play for! More details will be released in the coming days.
Since opening its doors on 30 September 2013 with a showstopping performance from honorary Scot Sir Rod Stewart, the OVO Hydro has welcomed over 10 million visitors and has continually ranked in the top 5 busiest arenas across the world, most recently securing no.1 Worldwide on Billboard Top Grossing Venues (with a capacity of 10-15k). From hosting global superstars Prince, Taylor Swift, Sir Elton John and Kylie to homegrown heroes Lewis Capaldi, Paolo Nutini, Kevin Bridges and Still Game, the past decade at the OVO Hydro has showcased some of the best in entertainment royalty.
Debbie McWilliams, Director of Live Entertainment said "
As we are poised to reach this milestone, we couldn't be prouder of the success of the OVO Hydro. It has been an outstanding decade of music, comedy, and sport. The venue has gone from strength to strength, year on year and is firmly placed as world-class in the global entertainment industry.
With over 1,000 shows staged, 10 million fans through the door and a cabinet filled with awards - there is a lot to celebrate. We are delighted to launch our 10th birthday season and over the coming weeks, we'll be shining the light on the fans, artists, promoters and partners who have played a pivotal role in our success!
The last decade has also seen the venue host some of the biggest international events including 2014 Commonwealth Games and MTV Europe Music Awards, and in late 2021 was front page of papers across the globe when it hosted the most important climate summit of our generation, COP26. Designed and built by Foster + Partners, the third addition to the Scottish Event Campus has since been internationally recognised for commitments to creating a more sustainable industry and in March 2022 was awarded the world's first 'A Greener Arena' certification by A Greener Future.