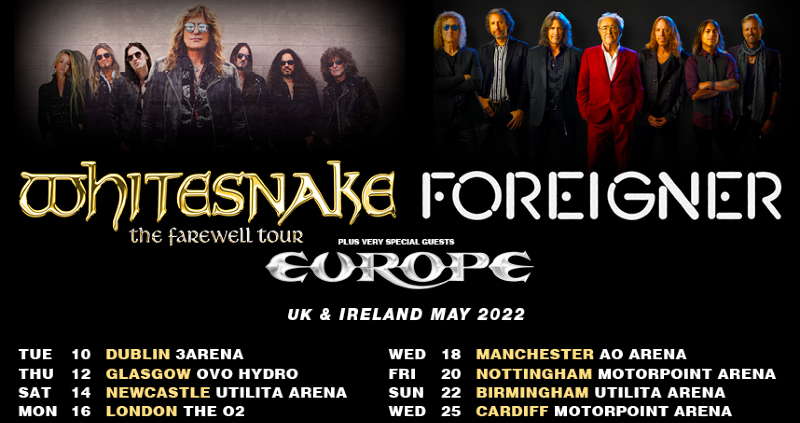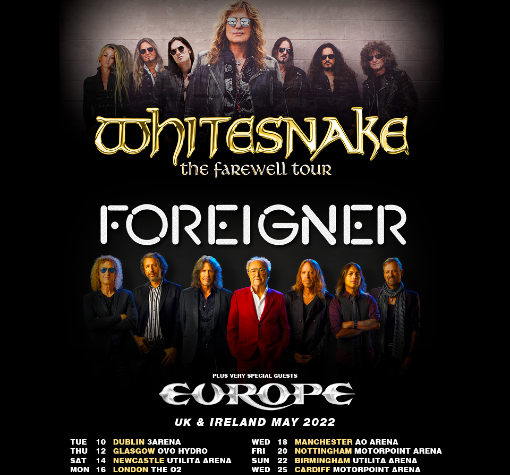 Whitesnake, Foreigner, Europe
12 May 2022 Doors: 6pm

Showtimes will be released approximately 3 days before the date of the event.
*Event timings issued are a guideline only and may be earlier or later than originally published.
Whitesnake and Foreigner announce that together they will be hitting the road across the U.K. in 2022 alongside very special guests Europe.
The legendary artists will tour the U.K. including a date in Glasgow on Thursday 12 May 2022. Together both Whitesnake and Foreigner boast a catalogue that spans the decades with seminal and anthemic hits such as "Here I Go Again", "Still Of The Night" and "Is This Love" [Whitesnake], "I Want To Know What Love Is", "Juke Box Hero" and "Cold As Ice" [Foreigner] to name a few. Very special guests Europe will bring their electrifying "The Final Countdown" and more to this U.K. arena tour.
One of the most anticipated tours of 2022, even this mega line-up cannot contain their excitement! "After all the extraordinary challenges we've been through together over the last year & a half, I am beyond excited to be able to announce our 2022 UK dates!!! I pray every day we can all make this happen & once again, share unforgettable evenings together & celebrate the amazing journey we have been on for almost 50 years!!! Boys & Girls…Whitesnake, Foreigner & Europe…It Doesn't Get Any Better!!! Let's Make This Night To Remember!!! says David Coverdale of Whitesnake.
Mick Jones from Foreigner said "We can't wait to kick off the summer in the UK with a massive tour alongside our friends Whitesnake and Europe. We're looking forward to playing all our biggest hits for our fans, and rocking across the country".
Europe's Joey Tempest said "What an explosive start to the summer of 2022 for us! A U.K. Arena tour with our friends in Whitesnake and Foreigner! YEAH! An evening of some of the biggest anthems in classic Rock! We are truly honored to be invited as special guests".
Whitesnake, Foreigner and Europe will take fans on a musical journey at this once in a lifetime performance. Combining arguably music's most celebrated rock legends, this tour will see Whitesnake, Foreigner and Europe perform their formidable musical arsenal.
COVID-19 Customer Update

For more information on COVID safety measures in place and what can be expected when you attend events, please check here.

VIP Package

Whitesnake VIP Package - £179.50 (including a ticket)

One premium reserved ticket located in first 10 rows or early access if GA
Collectable Whitesnake lithograph, autographed by David Coverdale (limited print)
Collectable Whitesnak patch
Collectable Whitesnake pin set
Specially designed Whitesnake tote bag
Commemorative Whitesnake tour laminate
Commemorative ticket
Merchandise shopping opportunity before general doors
Limited availability

***Merchandise will be distributed at the show

Important Ticket Information

Please note: The SEC Box office is temporarily closed. We are currently processing all ticket purchases online rather than at the SEC Box Office for the foreseeable future.

Accessible tickets can be booked online, or you can call 0141 576 3230 (replaces 0800 952 0110 temporarily) (open Mon-Fri 9am-2pm).

Digital Tickets

Your mobile is now your ticket.

Delivering the best purchase experience, digital tickets removes the inconvenience of visiting the box office in person or making a call to book. Purchase via OVOhydro.com or sec.co.uk and your tickets will be delivered straight to your device, when available. Your tickets will be stored in your TM account and can be accessed via the TM mobile app.

No more worrying if tickets will arrive in the post or hoping you get them in time for that important gift. The stress of losing or forgetting your tickets will be replaced with the confidence of knowing that they are stored securely on your device and are available for you at any time.

Transfer tickets quickly and easily to all members of your party, giving you the freedom to plan your journey to the venue. No need for everyone to arrive together or wait for that friend who is held up.

For more information about digital tickets, please click here.
12 May 2022
OVO Hydro

£52.30 - £68.75

(inc admin fee) + fulfilment

No counter sales – see Important Ticket Information tab below.

Accessible Ticket Booking Line:
0141 576 3230 (replaces 0800 952 0110 temporarily) (open Mon-Fri 9am-2pm)

Ticket limit: 6 per person

Standing: Over 14s / Under 16s with adult, Seating: Over 8s only / Under 16s with an adult