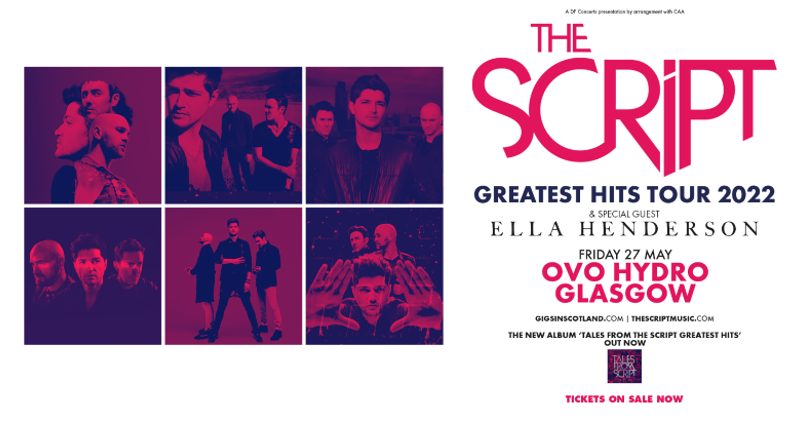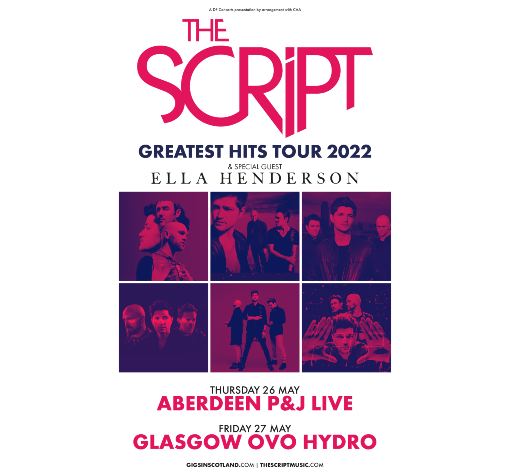 27 May 2022 Doors: 6.30pm

Showtimes will be released approximately 3 days before the date of the event.
*Event timings issued are a guideline only and may be earlier or later than originally published.
The Script celebrate a journey that has included five UK #1 albums, six billion streams, and over two million ticket sales with the release of the career-spanning greatest hits album 'Tales From The Script' on October 1st 2021.
The celebrations will extend deep into 2022 with the confirmation of a huge UK and European Greatest Hits Tour. Their first run of live dates in over two years, the tour includes a show at OVO Hydro. The Script will be joined by special guest Ella Henderson on their UK and Ireland arena dates.
'Tales From The Script' compiles all of the biggest hits and fan favourites from their six albums so far. It highlights the classic cuts from the trio's catalogue, taking in the likes of the #1 smash 'Hall of Fame' (featuring will.i.am) and the Top 10 hits 'The Man Who Can't Be Moved', 'For The First Time' and 'Superheroes'. It also includes landmark moments and staples of their live show including 'Breakeven', their debut single 'We Cry' and 'Rain'.
The collection honours everything that the trio - Danny O'Donoghue, Glen Power and Mark Sheehan - have achieved together since forming fourteen years ago. It's completed by the brand new song 'I Want It All', which Sheehan says, "delivers all the ingredients everyone knows and loves", and the immensely popular 'Acoustic Sessions' version of 'Never Seen Anything "Quite Like You"'.
"The 'Tales From The Script' album is a springboard to our next chapter, but it's also our story so far," says O'Donoghue. "We're so excited to be taking it on the road. I know I'm gonna lose it on stage, night after night."
Power adds, "We're taking all the best songs and playing them all together in one place. It will turn it into a celebration that we've survived and we've all got through to this moment together."
COVID-19 Customer Update

For more information on COVID safety measures in place and what can be expected when you attend events, please check here.

VIP Packages

The Script VIP Seated Package
£109.00 + service charge

• A top price seated ticket
• A venue specific A4 tour art print, pre-signed by The Script
• An exclusive VIP gift chosen by The Script
• A commemorative VIP laminate and custom lanyard

The Script VIP Standing Package
£99.00 + service charge

• A general admission standing ticket (this package does not include early entry)
• A show specific A4 tour art print, pre-signed by The Script
• An exclusive VIP gift chosen by The Script
• A commemorative VIP laminate and custom lanyard

Important Ticket Information

Please note: The SEC Box office is temporarily closed. We are currently processing all ticket purchases online rather than at the SEC Box Office for the foreseeable future.

Accessible tickets can be booked online, or you can call 0141 576 3230 (replaces 0800 952 0110 temporarily) (open Mon-Fri 9am-2pm).

Digital Tickets

Your mobile is now your ticket.

Delivering the best purchase experience, digital tickets removes the inconvenience of visiting the box office in person or making a call to book. Purchase via OVOhydro.com or sec.co.uk and your tickets will be delivered straight to your device, when available. Your tickets will be stored in your TM account and can be accessed via the TM mobile app.

No more worrying if tickets will arrive in the post or hoping you get them in time for that important gift. The stress of losing or forgetting your tickets will be replaced with the confidence of knowing that they are stored securely on your device and are available for you at any time.

Transfer tickets quickly and easily to all members of your party, giving you the freedom to plan your journey to the venue. No need for everyone to arrive together or wait for that friend who is held up.

For more information about digital tickets, please click here.
27 May 2022
OVO Hydro

£33.15 - £123.30

(inc admin fee) + fulfilment

No counter sales – see Important Ticket Information tab below.

Accessible Ticket Booking Line:
0141 576 3230 (replaces 0800 952 0110 temporarily) (open Mon-Fri 9am-2pm)

Ticket limit: Pre-sale 4 per person, general on sale 6 per person

Standing: Over 14s only / Under 16s must be accompanied by an adult, Seating: Over 8s only / Under 16s with an adult