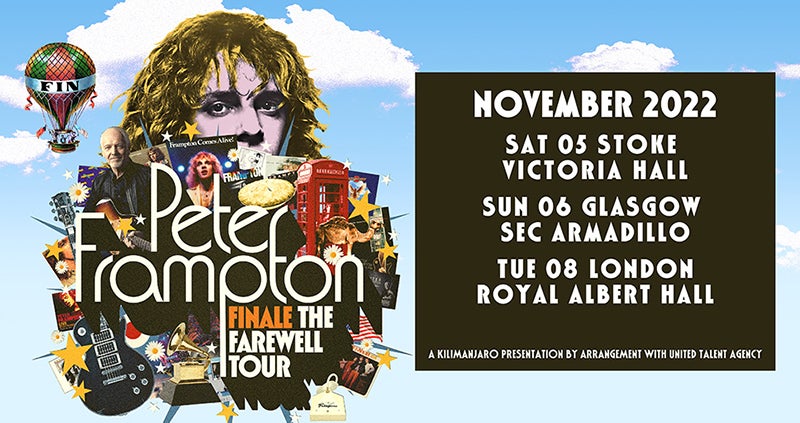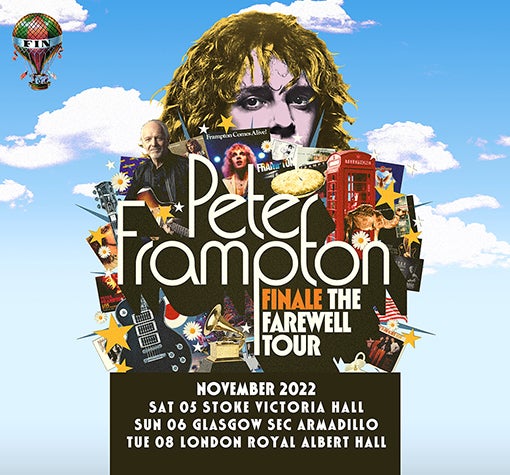 Peter Frampton Finale: The Farewell Tour
06 Nov 2022 Doors: 6.30pm

Show starts at 7.30pm
*Event timings issued are a guideline only and may be earlier or later than originally published.
"One of rock 'n' roll's lifelong major players" - Rolling Stone Magazine

PETER FRAMPTON FINALE - THE FAREWELL TOUR
UK DATES ANNOUNCED FOR NOVEMBER 2022

Legendary guitarist Peter Frampton has confirmed UK dates on the Peter Frampton Finale - The Farewell Tour.

Peter Frampton says, "Great news!! I am continuing my PF Finale Tour this November in the UK. My band and I have been chomping at the bit to play and can't wait to keep our promise to play for you again. Thanks for your patience."

Grammy-winning guitarist Peter Frampton is one of the most celebrated artists and guitarists in rock history.

At 16, he was lead singer and guitarist for British band the Herd. At 18, Frampton co-founded one of the first super groups, seminal rock act Humble Pie.

After 46 years, Frampton Comes Alive! still remains one of the top-selling live records of all time selling over 17 million worldwide and was inducted into the Grammy Hall of Fame in 2020.

His collaborations in recording sessions and live performances range from such legendary artists as George Harrison, Harry Nilsson, David Bowie, Dion, Hank Marvin, Ringo Starr, B.B. King, Mike McCready & Matt Cameron (Pearl Jam), Buddy Guy, Steve Miller and many others.

Frampton's relevancy has not waned in the least over the years. He worked closely with Cameron Crowe on his Oscar winning film, Almost Famous, as a technical advisor, writing music for the fictional band Stillwater and even making a cameo as Humble Pie's road manager.

In 2007, Peter won a Grammy for Best Pop Instrumental Album for Fingerprints and in 2014 was inducted into the Musicians Hall of Fame. Peter received the prestigious Les Paul Innovation Award from NAMM's TEC Awards in 2019.

His 2019 album All Blues, was #1 for fifteen weeks on Billboard's Blues Chart, his 2020 autobiography Do You Feel Like I Do?: A Memoir debuted on The New York Times Bestsellers list, and most recently, his new album Frampton Forgets The Words was released to widespread critical acclaim.

He followed the release of the memoir with his 18th studio album 'Frampton Forgets the Words' on 21 April 2021. Upon release the album was met with critical acclaim. With his 1954 Les Paul Phenix, Frampton brings virtuosic guitar playing to 10 instrumental tributes to some of his favourite songs, including 'Isn't It a Pity' by George Harrison, 'Reckoner' by Radiohead, 'Loving the Alien' by David Bowie, and more.
COVID-19 Customer Update

For more information on COVID safety measures in place and what can be expected when you attend events, please check here.

Digital Tickets

Your mobile is now your ticket.

Delivering the best purchase experience, digital tickets removes the inconvenience of visiting the box office in person or making a call to book. Purchase via ovohydro.com or sec.co.uk and your tickets will be delivered straight to your device, when available. Your tickets will be stored in your TM account and can be accessed via the TM mobile app.

No more worrying if tickets will arrive in the post or hoping you get them in time for that important gift. The stress of losing or forgetting your tickets will be replaced with the confidence of knowing that they are stored securely on your device and are available for you at any time.

Transfer tickets quickly and easily to all members of your party, giving you the freedom to plan your journey to the venue. No need for everyone to arrive together or wait for that friend who is held up.

For more information about digital tickets, please click here.

Accessible Ticket Booking

Customers who wish to buy tickets for accessible positions can do so online via our websites (ticketing powered by Ticketmaster), or by using our accessible booking line on 0141 576 3230 (replaces 0800 952 0110 temporarily) (open Mon-Fri 9am-2pm).

Important Ticket Information

Please note: The SEC Box office is temporarily closed. We are currently processing all ticket purchases online rather than at the SEC Box Office for the foreseeable future.

Accessible tickets can be booked online, or you can call 0141 576 3230 (replaces 0800 952 0110 temporarily) (open Mon-Fri 9am-2pm).
06 Nov 2022
SEC Armadillo

£55.15 - £1,091.20
(inc admin fee) + fulfilment

Over 5's only Under 14's with an adult 18+