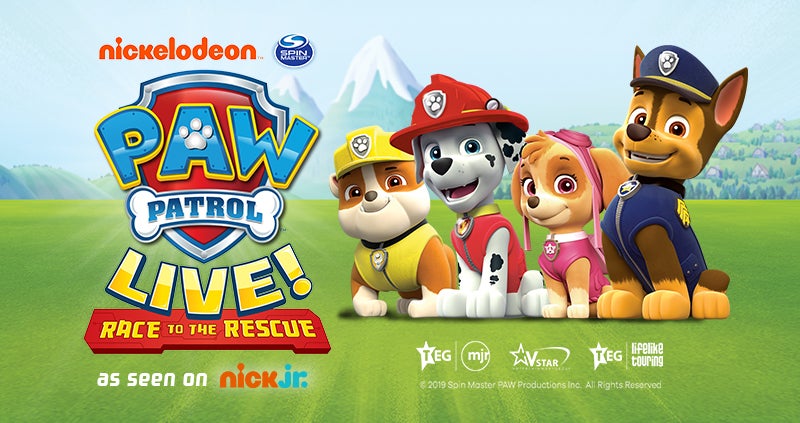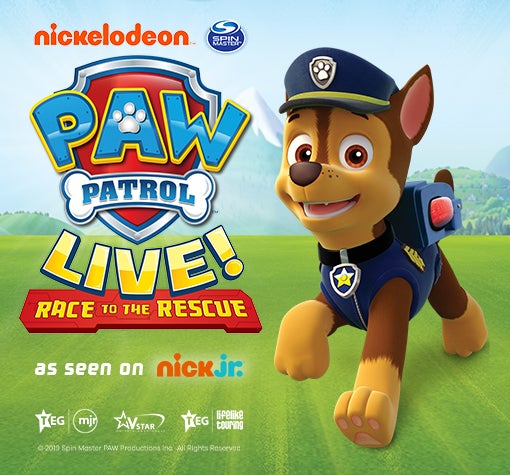 PAW Patrol Live! "Race to the Rescue"
14 Jul 2021 Doors: 9.30am

Show time 10.30am

14 Jul 2021 Doors: 12.30pm

Show time 1.30pm

14 Jul 2021 Doors: 3.30pm

Show time 4.30pm
*Event timings issued are a guideline only and may be earlier or later than originally published.
Rescheduled from July 18-19 2020
A message from the organiser:
Due to the COVID-19 situation and as a precaution to the safety of our audiences, cast and staff, the 2020 PAW Patrol Live! "Race to the Rescue" tour, promoted by TEG MJR, has been postponed to Summer 2021.
Please note that all tickets purchased for the 2020 tour will remain valid for 2021, so please look out for an email from your point of purchase with all the information you need to know about your tickets, including what to do if you are unable to attend the new dates.
The 'Babes in Arms' policy has been extended for the 2021 tour by 12 months so that children 24 months and under do not require a ticket provided they are seated on the lap of a ticket holder.
We fully appreciate that this decision may come as a disappointment and apologise for any inconvenience this will cause. Ultimately we have a responsibility to protect the well-being of the community and we believe this is the correct decision to make.
We thank you for your understanding at this time. Stay safe and we look forward to seeing you in 2021.
Based on the hit animated TV series on Nickelodeon produced by Spin Master, PAW Patrol Live! "Race to the Rescue" is returning to the UK and Ireland after its hit 2018 tour, bringing everybody's favourite pups back to the stage for an action-packed, high-energy, musical adventure. When Mayor Goodway goes missing during the day of the Great Adventure Bay Race, the pups come to the rescue. Join Ryder, Chase, Marshall, Rocky, Rubble, Zuma, Sky and Everest for the show's second tour of the UK and Ireland.
Featuring a cast of everybody's favourite PAW Patrol characters and presented by VStar Entertainment Group, TEG Life Like Touring, Nickelodeon and TEG MJR, PAW Patrol Live! "Race to the Rescue," shows that "no job is too big, no pup is too small," and shares lessons for all ages about citizenship, social skills and problem-solving as the characters each use their unique skills and teamwork. The show includes two acts and an intermission, and engages audiences with Bunraku puppetry, an innovative costuming approach that brings the PAW Patrol characters to life on stage with their vehicles and packs.
We are thrilled to partner with VStar Entertainment Group, TEG Life Like Touring and TEG MJR to bring PAW Patrol Live! Back to families in the UK and Ireland. This unique stage production promises adventure at every turn, as the audience works together to help our heroic pups save the day," said Thomas Kingsley, Director, Global Location Based Experiences for Nickelodeon. "PAW Patrol is one of our most beloved shows with smaller children. It is a format that offers both learning and fun. The pups' abilities and experiences resonate with so many children around the world which helps audiences identify with them. We know that children and parents alike will love experiencing their favourite pups live on stage," says Danielle Tanton, Location Based Experiences Licensing Director for Nickelodeon (UK and Ireland).
The performance features up-tempo music and a cleverly written script that is a good introduction to live theatre for kids. Classic theatrical scenery along with a high-tech video wall visually transports families to an authentic PAW Patrol environment, including locations from the TV series, like Adventure Bay, The Lookout, Seal Island, Farmer Yumi's farm and Jake's Mountain. Special interactive video allows the audience to participate via interviews, solve clues with the Pups, follow Mayor Goodway and much more!
Important Information

Babes in arms - Under 2's (no ticket required provided they are seated on the lap of a ticket holder)
Performances last approx 1 hour & 15 minutes (75 minutes) including two acts and a 15-minute interval.

Digital Tickets

Your mobile is now your ticket.

Delivering the best purchase experience, digital tickets removes the inconvenience of visiting the box office in person or making a call to book. Purchase via theSSEhydro.com or sec.co.uk and your tickets will be delivered straight to your device, when available. Your tickets will be stored in your TM account and can be accessed via the TM mobile app.

No more worrying if tickets will arrive in the post or hoping you get them in time for that important gift. The stress of losing or forgetting your tickets will be replaced with the confidence of knowing that they are stored securely on your device and are available for you at any time.

Transfer tickets quickly and easily to all members of your party, giving you the freedom to plan your journey to the venue. No need for everyone to arrive together or wait for that friend who is held up.

For more information about digital tickets, please click here.
14 July 2021
SEC Armadillo

Rescheduled from July 2020

£17.05 - £68.10
(inc admin fee) + fulfilment

Accessible Ticket Booking Line:
0141 576 3230 (replaces 0800 952 0110 temporarily) (open Mon-Fri 9am-5.30pm)