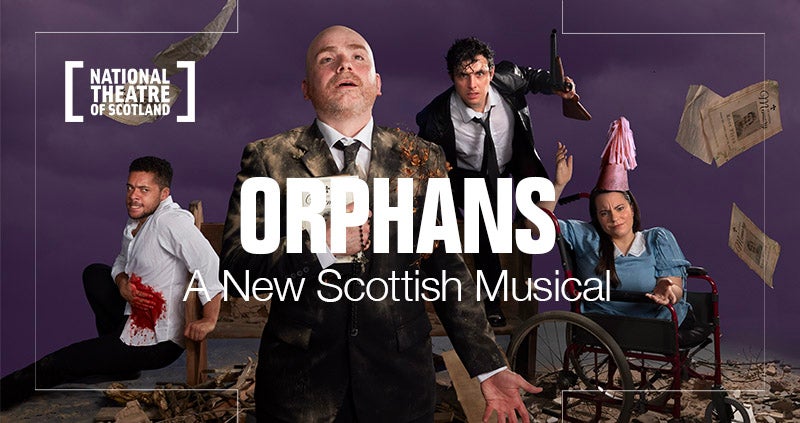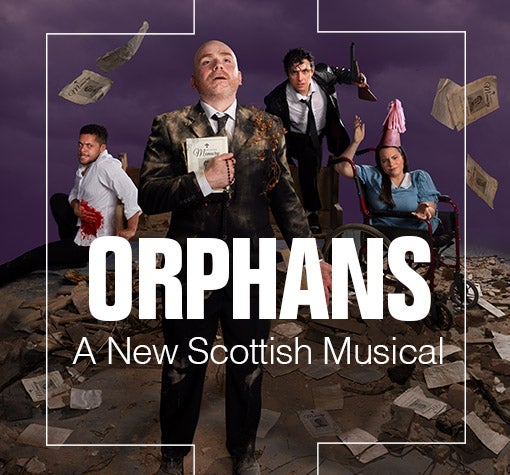 Orphans
A New Scottish Musical
06 Apr 2022

Show starts 7.30pm - Preview night

07 Apr 2022

Show starts 7.30pm - Opening / Press night

08 Apr 2022

Show starts 7.30pm

09 Apr 2022

Show starts 2.30pm

09 Apr 2022

Show starts 7.30pm
View All Showings
*Event timings issued are a guideline only and may be earlier or later than originally published.
New cast and creative team members have today been revealed for National Theatre of Scotland's world premiere production of Orphans, a darkly comic musical about grief, family and forgiveness, based on the much-loved cult film written and directed by Peter Mullan, opening at the SEC, Glasgow and touring in April 2022. This big bold Scottish musical is directed by Cora Bissett, with music and lyrics by Roddy Hart and Tommy Reilly and book by Douglas Maxwell.
New cast and ensemble members announced today are Amber Sylvia Edwards (Carole) who starred as Rapunzel in National Theatre of Scotland's musical festive film Rapunzel and is currently touring the UK in Dirty Dancing; Louise McCarthy (Mrs Hanson) who worked with National Theatre of Scotland in its co-production with Birds of Paradise Theatre Company, My Left Right Foot and is well known as one half of the comedy duo The Dolls; John McLarnon (Jacko) who also appeared in My Left Right Foot, Local Hero (Royal Lyceum Theatre and The Old Vic) and recently collaborated on The 3M Mixtape for Dundee Rep; Patricia Panther (Sara), who appeared recently in Hannah Lavery's Lament for Sheku Bayoh for National Theatre of Scotland, Royal Lyceum Theatre, Edinburgh and Edinburgh International Festival and previously worked with Cora Bissett on the musical Glasgow Girls; Paul McCole (Frank) known to screen audiences for his roles in Still Game, Limmy's Show and Sunshine on Leith and previously worked with the National Theatre of Scotland on The Strange Undoing of Prudencia Hart and Betty Valencia (Ann-Marie) currently in Cinderella at Perth Theatre, with previous appearances in WeCameToDance (Food Tank), The Last Bus (Hurricane Films) and This Girl Laughs, This Girl Cries, This Girl Does Nothing (Stellar Quines, Imaginate).
They join previously announced Orphans cast members Amy Conachan as Sheila, Robert Florence as Thomas, Chloe Hodgson as Bernadette, Reuben Joseph as Michael, Harry Ward as Tanga and Dylan Wood as John.
Joining the Orphans creative team are Movement Director Vicki Manderson, Associate Movement Director Jade Adamson and Shonagh Murray as Associate Musical Director. BSL Performance Interpreters for the production will be Catherine King and Yvonne Strain. 
COVID-19 Customer Update

For more information on COVID safety measures in place and what can be expected when you attend events, please check here.

Important Ticket Information

Please note: The SEC Box office is temporarily closed. We are currently processing all ticket purchases online rather than at the SEC Box Office for the foreseeable future.

Accessible tickets can be booked online, or you can call 0141 576 3230 (replaces 0800 952 0110 temporarily) (open Mon-Fri 9am-2pm).

Digital Tickets

Your mobile is now your ticket.

Delivering the best purchase experience, digital tickets removes the inconvenience of visiting the box office in person or making a call to book. Purchase via OVOhydro.com or sec.co.uk and your tickets will be delivered straight to your device, when available. Your tickets will be stored in your TM account and can be accessed via the TM mobile app.

No more worrying if tickets will arrive in the post or hoping you get them in time for that important gift. The stress of losing or forgetting your tickets will be replaced with the confidence of knowing that they are stored securely on your device and are available for you at any time.

Transfer tickets quickly and easily to all members of your party, giving you the freedom to plan your journey to the venue. No need for everyone to arrive together or wait for that friend who is held up.

For more information about digital tickets, please click here.
06 - 09 Apr 2022
SEC Armadillo

£12.55 - £41.50

(inc admin fee) + fulfilment

No counter sales – see Important Ticket Information tab below.

Accessible Ticket Booking Line:
0141 576 3230 (replaces 0800 952 0110 temporarily) (open Mon-Fri 9am-2pm)

16+