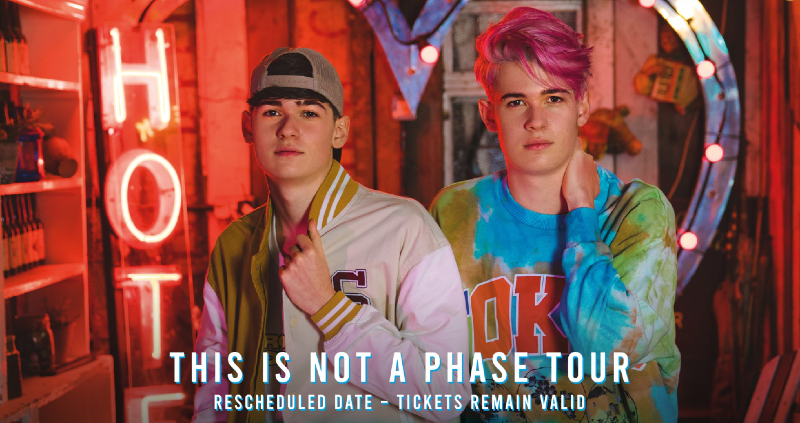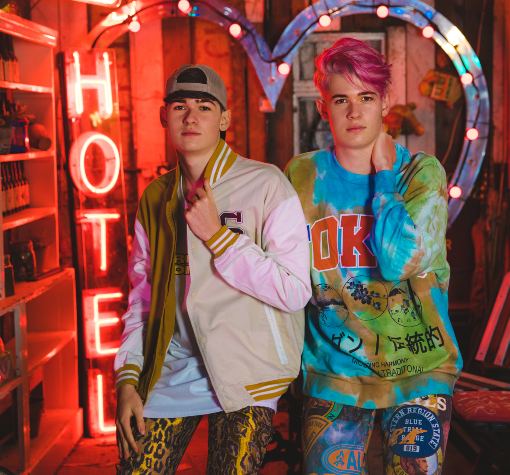 16 Apr 2022 Doors: 6.30pm

Showtimes will be released approximately 3 days before the date of the event.
*Event timings issued are a guideline only and may be earlier or later than originally published.
Max & Harvey, originally scheduled for 11 August 2021, will now take place on 16 April 2022. All tickets remain valid for the new date.
UK teen culture phenomenons Max & Harvey built their diehard fan base as the #1 UK act on TikTok and runners up on X Factor Celebrity. The 17-year-old Berkshire based twin brothers + famed musicians dominated the platform in its early stages and have brought their music career to the main stage at Camp Bestival.
Most recently they launched a Spotify Original Podcast "School Daze with Max and Harvey". Their TV show has been renewed and airing its third season (FOMO with Max & Harvey on CBBC). Penguin UK published their book (Max and Harvey: In A Book). They also took home the Radio Disney Music Award for Favourite Social Music Artist in 2018.
COVID-19 Customer Update

For more information on COVID safety measures in place and what can be expected when you attend events, please check here.

Important Ticket Information

Please note: The SEC Box office is temporarily closed. We are currently processing all ticket purchases online rather than at the SEC Box Office for the foreseeable future.

Accessible tickets can be booked online, or you can call 0141 576 3230 (replaces 0800 952 0110 temporarily) (open Mon-Fri 9am-2pm).

VIP Tickets

MEET & GREET TICKET

£27.50 + booking fee

Soundcheck Party
Early Entry to the concert
Meet & Greet with Max & Harvey

FAQs

Are Meet & Greet tickets available?

A limited number of meet & greet tickets are available to add on to your order. Please select the number of seats you need, you'll then have the opportunity to add on a meet & greet to your order during check-out.

What is a meet & greet?

A meet & greet is the opportunity to say a quick hello to an artist or celebrity that you love and to take a picture with them. Most meet & greets consist of approx 100-200 fans. Fans will be guided by venue staff to form an organized line in a specified area. Venue and artist security will instruct all meet & greet attendees when they can approach the artists and when they need to exit the meet & greet area after their photo has been taken.

When is the meet & greet / soundcheck party?

The meet & greet and soundcheck party will take place before the show with exact timing sent out to purchasers prior to the show. If you arrive more than 30 minutes after the listed start time of your meet & greet, you will not be permitted to enter the meet & greet and will forfeit all rights to the meet & greet ticket you have purchased. No refunds will be given.

Are my parents allowed to come?

If you are a minor, you may have one parent or guardian* accompany you at the meet & greet IF they have a standard ticket to the show. No person is allowed to enter the venue that does not have a ticket to the show. Guardians do not need to purchase a VIP ticket in order to accompany a minor, but must purchase a parent ticket to the show. Please note that no guardians may participate in the meet & greet, interact with or take a photo with artists.

*Parent or guardian does not include an older sibling or older friend.

Digital Tickets

Your mobile is now your ticket.

Delivering the best purchase experience, digital tickets removes the inconvenience of visiting the box office in person or making a call to book. Purchase via OVOhydro.com or sec.co.uk and your tickets will be delivered straight to your device, when available. Your tickets will be stored in your TM account and can be accessed via the TM mobile app.

No more worrying if tickets will arrive in the post or hoping you get them in time for that important gift. The stress of losing or forgetting your tickets will be replaced with the confidence of knowing that they are stored securely on your device and are available for you at any time.

Transfer tickets quickly and easily to all members of your party, giving you the freedom to plan your journey to the venue. No need for everyone to arrive together or wait for that friend who is held up.

For more information about digital tickets, please click here.
16 Apr 2022
Lomond Auditorium

Rescheduled from August 2021

£22.70

(inc admin fee) + fulfilment

No counter sales – see Important Ticket Information tab below.

Accessible Ticket Booking Line:
0141 576 3230 (replaces 0800 952 0110 temporarily) (open Mon-Fri 9am-2pm)

Ticket limit: 6 per person

5+ (under 16's with an adult)