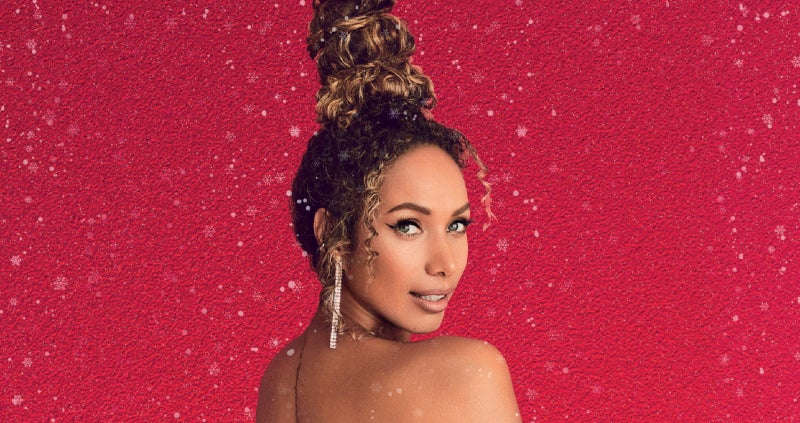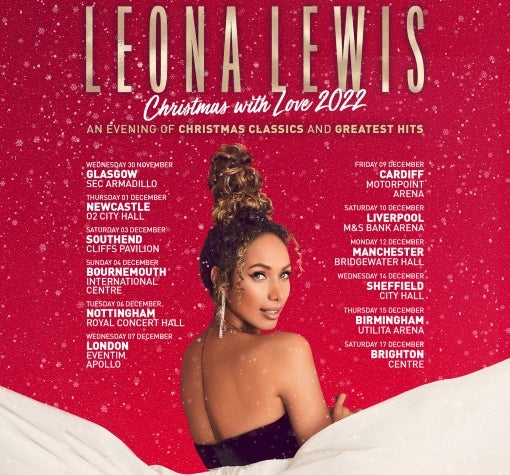 Leona Lewis
Christmas With Love 2022 UK Tour
30 Nov 2022 Doors: 6.30pm

Showtimes will be released approximately 3 days before the date of the event.
*Event timings issued are a guideline only and may be earlier or later than originally published.
Record-breaking global sensation Leona Lewis has announced a major UK tour for Christmas 2022. Leona's evening of Christmas Classics and Greatest Hits follows the release of Christmas, With Love Always, the special repackaged release of her 2013 studio album Christmas, With Love; available now.
2013's Christmas, With Love is perhaps best known for its lead single 'One More Sleep', an original song which saw Leona break the record for the most Top 5 hits for a British female solo artist. Last year saw the platinum-certified festive hit have its biggest year since its 2013 release. It has featured consistently in the Top 10 streamed catalogue Christmas songs year-upon-year as a Christmas staple alongside the likes of Mariah Carey's 1994 monumental smash 'All I Want For Christmas Is You'. Official Charts Company hailed 'One More Sleep' – which was co-written by Lewis - as "a new Christmas classic". The album also includes new original song 'Kiss Me It's Christmas' feat. Ne-Yo and a beautiful, reimagined version of Bee Gees classic If I Can't Have You.

The 3-time GRAMMY and 7-time BRIT Award nominee this year celebrates 15 years since her iconic X Factor win; the now globally recognised artist won Season Three of the British talent show in 2006. Since her tremendous breakthrough, Leona has released five studio albums, including Christmas, With Love (2013). She's had over 35 million albums sold worldwide, with her debut, Spirit, achieving the status of the best-selling debut album by a female artist in the 21st Century. Lead single 'Bleeding Love' (2007) reached #1 in 35 countries: claiming Leona's position for seven weeks in the UK. The song later became the best-selling single of 2008 worldwide and has now been streamed 2 billion times!
This winter, Leona joins Gary Barlow as "Very Special Guest" on his 16-date arena tour across the UK before embarking on her own headline tour next Christmas. Leona said:
"I couldn't be more excited to announce my U.K. headline tour for 2022! After such a challenging year I can't wait to celebrate with my fans and experience that feeling of togetherness again. It really is a dream come true to be able to create this special night - and at my favourite time of year too! I can't wait to see everyone and make more memories!"
Important Ticket Information

Please note: The SEC Box office is temporarily closed. We are currently processing all ticket purchases online rather than at the SEC Box Office for the foreseeable future.

Accessible tickets can be booked online, or you can call 0141 576 3230 (replaces 0800 952 0110 temporarily) (open Mon-Fri 9am-2pm).

COVID-19 Customer Update

Admission to this event is at all times subject to any terms, conditions or rules of the Promoter and the venue operator. You must also adhere to the Promoter or venue operator's specific terms of entry and protocols surrounding Covid-19 – this could be, but is not limited to, an obligation to provide negative lateral flow tests or provide vaccination certificates. If you do not comply with any Promoter or venue terms, conditions or rules then the Promoter or venue operator may refuse admission or require you or other ticket holders to leave the venue and you will not be entitled to a refund.

For more information on COVID safety measures in place and what can be expected when you attend events, please check here.

Digital Tickets

Your mobile is now your ticket.

Delivering the best purchase experience, digital tickets removes the inconvenience of visiting the box office in person or making a call to book. Purchase via ovohydro.com or sec.co.uk and your tickets will be delivered straight to your device, when available. Your tickets will be stored in your TM account and can be accessed via the TM mobile app.

No more worrying if tickets will arrive in the post or hoping you get them in time for that important gift. The stress of losing or forgetting your tickets will be replaced with the confidence of knowing that they are stored securely on your device and are available for you at any time.

Transfer tickets quickly and easily to all members of your party, giving you the freedom to plan your journey to the venue. No need for everyone to arrive together or wait for that friend who is held up.

For more information about digital tickets, please click here.
30 Nov 2022
SEC Armadillo

£35.25 - £199.85

(inc admin fee) + fulfilment

No counter sales – see Important Ticket Information tab below.

Accessible Ticket Booking Line:
0141 576 3230 (replaces 0800 952 0110 temporarily) (open Mon-Fri 9am-2pm)

Over 14s with adult