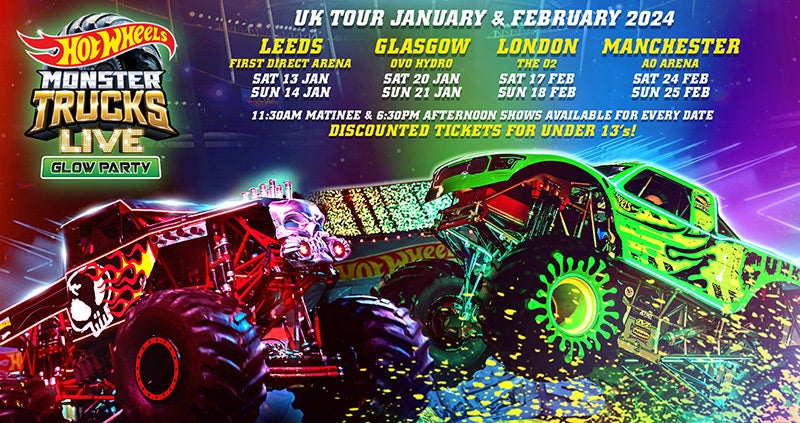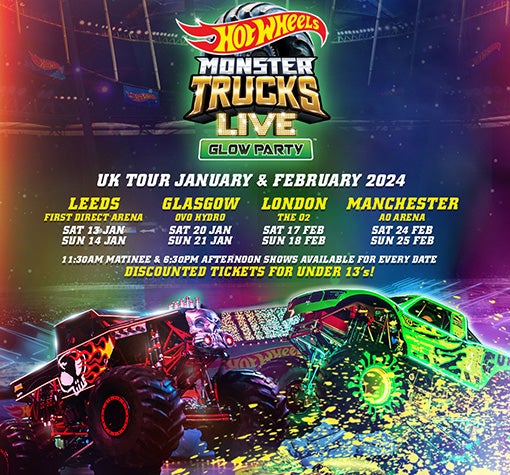 Hot Wheels Monster Trucks Live
Glow Party
20 Jan 2024

Start 11.30am

20 Jan 2024

Start 6.30pm

21 Jan 2024

Start 11.30am

21 Jan 2024

Start 6.30pm

*Event timings issued are a guideline only and may be earlier or later than originally published.
Hot Wheels Monster Trucks Live™ Glow Party™
Lights Up Glasgow, January 20 & 21
Worldwide Tour Rolls Into OVO Hydro with a Thrilling Experience for the Whole Family!

Hot Wheels Monster Trucks Live Glow Party is returning to Glasgow. Fans of all ages will experience the thrill of watching their favourite Hot Wheels Monster Trucks in the DARK! This one-of-a-kind show will visit the OVO Hydro on Saturday January 20 and Sunday 21 for four epic performances!

Hot Wheels Monster Trucks Live Glow Party brings fans' favorite Hot Wheels Monster Trucks to life including Mega Wrex™, Tiger Shark™, Demo Derby™, Bone Shaker™, Bigfoot®, Gunkster™, and introducing the brand new HW 5-Alarm™, the firetruck hero of Hot Wheels Monster Trucks! Event performances will also feature a dazzling dance party, spectacular light shows and Hot Wheels toy giveaways. Plus, the fire and frost-breathing, transforming dragon ARCTICGON, and the electrifying
high-flyers of Hot Wheels Monster Trucks Live, Freestyle Motocross! Special kids' pricing is available for all shows providing BIG value for the whole family!

Digital Tickets

We are launching Safetix on events with mobile ticketing. For more information on Safetix click here.

Your digital tickets are unique to you. They can't be copied, stolen or used as a screenshot and are always stored in your online account, safe and secure, wherever you are.

Your mobile is now your ticket.

Delivering the best purchase experience, digital tickets removes the inconvenience of visiting the box office in person or making a call to book. Purchase via ovohydro.com or sec.co.uk and your tickets will be delivered straight to your device, when available. Your tickets will be stored in your TM account and can be accessed via the TM mobile app.

No more worrying if tickets will arrive in the post or hoping you get them in time for that important gift. The stress of losing or forgetting your tickets will be replaced with the confidence of knowing that they are stored securely on your device and are available for you at any time.

Transfer tickets quickly and easily to all members of your party, giving you the freedom to plan your journey to the venue. No need for everyone to arrive together or wait for that friend who is held up.

For more information about digital tickets, please click here.

Accessible Ticket Booking

Customers who wish to buy tickets for accessible positions can do so online via our websites (ticketing powered by Ticketmaster), or by using our accessible booking line on 0141 576 3230 (open Mon-Fri 9am-2pm).

Crash Zone Timings

Price £11.35 (in addition to ticket price)

Show
VIP Crash Zone
Crash Zone
GA Doors
Pre-Show
Show Time
Morning
08:45 – 09:00
09:00 – 10:30
10:00
11:00
11:30
Evening
15:45 – 16:00
16:00 – 17:30
17:00
18:00
18:30

Legends Backstage Tour  

Legends Backstage Tour
£90.80
See the Hot Wheels Monster Trucks up close and personal, exclusively guided by the hosts of Hot Wheels Monster Trucks Live! Experience what happens behind the scenes before all of the smashing and crashing goes down and then watch when the Hot Wheels Monster Trucks come to life, includes a VIP merch bundle!





20 - 21 Jan 2024
OVO Hydro

£30.08 - £58.45
(inc admin fee) + fulfilment

All Ages