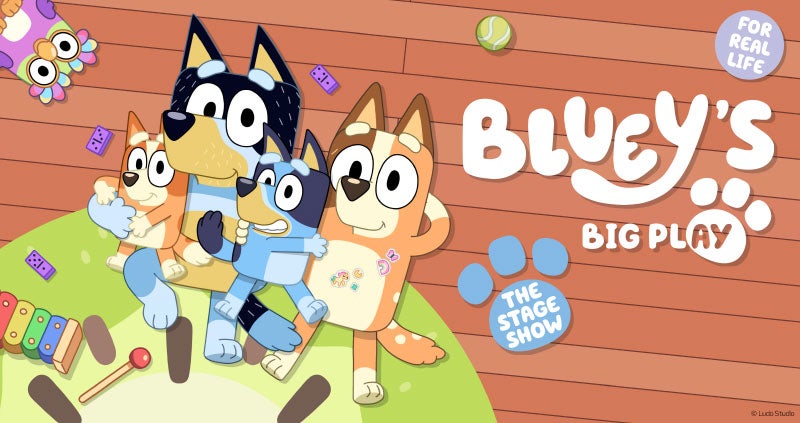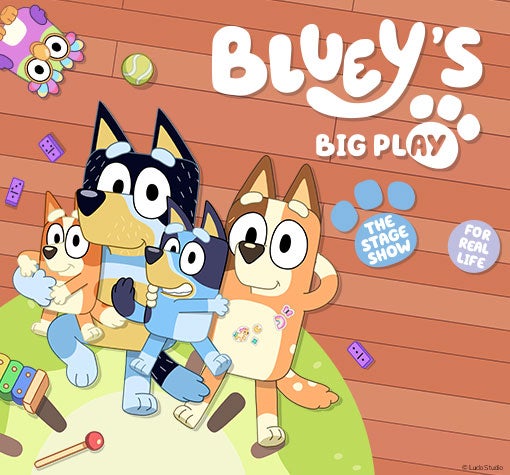 07 Dec 2023 Doors: 9.30am

0930 Doors Open
1030 Event starts
1120 Event finishes

07 Dec 2023 Doors: 12pm

1200 Doors Open
1300 Event starts
1350 Event finishes

08 Dec 2023 Doors: 9.30am

0930 Doors Open
1030 Event starts
1120 Event finishes

08 Dec 2023 Doors: 12pm

1200 Doors Open
1300 Event starts
1350 Event finishes

08 Dec 2023 Doors: 3.30pm

1530 Doors Open
1630 Event starts
1720 Event finishes

09 Dec 2023 Doors: 9.30am

0930 Doors Open
1030 Event starts
1120 Event finishes

09 Dec 2023 Doors: 12pm

1200 Doors Open
1300 Event starts
1350 Event finishes

09 Dec 2023 Doors: 3.30pm

1530 Doors Open
1630 Event starts
1720 Event finishes

10 Dec 2023 Doors: 9.30am

0930 Doors Open
1030 Event starts
1120 Event finishes

10 Dec 2023 Doors: 12pm

1200 Doors Open
1300 Event starts
1350 Event finishes
View All Showings
*Event timings issued are a guideline only and may be earlier or later than originally published.
When Dad feels like a little bit of Sunday afternoon time out, Bluey and Bingo have other plans! Join them as they pull out all of the games and cleverness at their disposal to get Dad off that bean bag.
Bluey's Big Play is a brand-new theatrical adaptation of the Emmy® award-winning children's television series, with an original story by Bluey creator Joe Brumm, and new music by Bluey composer, Joff Bush.
Join the Heelers in their first live theatre show made just for you, featuring brilliantly created puppets, this is Bluey as you've never seen it before, brought to real life in this UK premiere.
Bluey's Big Play is produced by Andrew Kay and Cuffe & Taylor with Windmill Theatre Co for BBC Studios
Important Event Information

Please be advised that buggies and baby car seats can be brought to the Armadillo, but not taken into the Auditorium. For your convenience, a free-of-charge buggy park is available within the Armadillo foyer on a first-come, first-served basis.

Booster seats can be obtained on a first-come, first-served basis; however, they are only available for use in the stalls and are not for the circle or gallery areas.

Children under the age of 18 months go free as 'babes in arms', no seat is provided in this circumstance.

Digital Tickets

We are launching Safetix on events with mobile ticketing. For more information on Safetix click here.

Your digital tickets are unique to you. They can't be copied, stolen or used as a screenshot and are always stored in your online account, safe and secure, wherever you are.

Your mobile is now your ticket.

Delivering the best purchase experience, digital tickets removes the inconvenience of visiting the box office in person or making a call to book. Purchase via ovohydro.com or sec.co.uk and your tickets will be delivered straight to your device, when available. Your tickets will be stored in your TM account and can be accessed via the TM mobile app.

No more worrying if tickets will arrive in the post or hoping you get them in time for that important gift. The stress of losing or forgetting your tickets will be replaced with the confidence of knowing that they are stored securely on your device and are available for you at any time.

Transfer tickets quickly and easily to all members of your party, giving you the freedom to plan your journey to the venue. No need for everyone to arrive together or wait for that friend who is held up.

For more information about digital tickets, please click here.

Accessible Ticket Booking

Customers who wish to buy tickets for accessible positions can do so online via our websites (ticketing powered by Ticketmaster), or by using our accessible booking line on 0141 576 3230 (open Mon-Fri 9am-2pm).
07 - 10 Dec 2023
SEC Armadillo

£15.90 - £32.95
(inc admin fee) + fulfilment

all ages