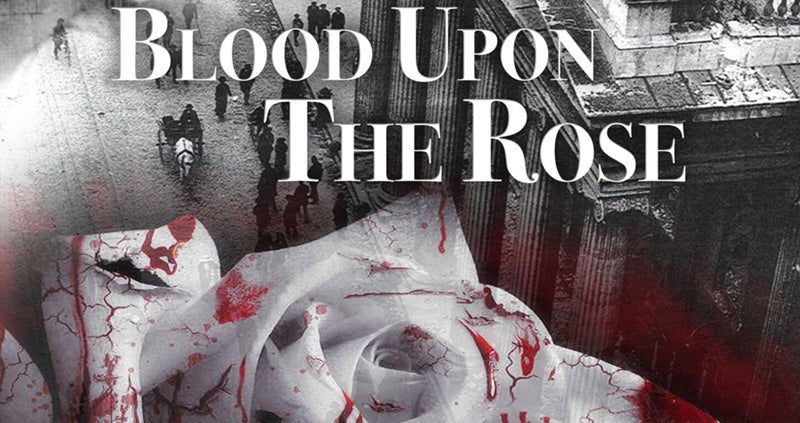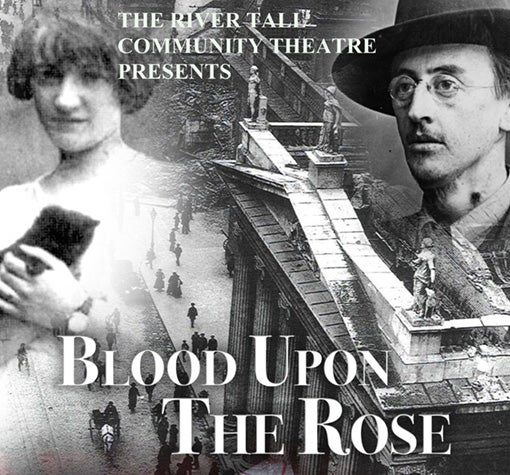 27 Aug 2022 Doors: 6.30pm

Show time 7.30pm
*Event timings issued are a guideline only and may be earlier or later than originally published.
The River Tall Community Theatre presents Blood Upon The Rose
Blood Upon The Rose, written and directed by Gerry Cunningham is a sad but true, love story set in Dublin during Easter week 1916. Grace Gifford hailing from a Dublin middle-class Unionist background falls in love with leading Irish revolutionary Joseph Plunkett. Both agree to marry on Easter Sunday 1916 but a rising against British Rule in Ireland has been planned for that very day. Plunkett is vital to the revolutionaries plans as he is the military director of operations. Grace while sympathising with his cause prefers to wait until the outcome of the rising before giving her hand in marriage. In some of the most incredible scenes ever staged, the rising is defeated and Plunkett along with his comrades are sentenced to death by execution shortly afterwards in Kilmainham Gaol. Grace and Joseph plead to marry in the small chapel in the prison that very night. Their wish is granted and after exchanging wedding vows in the dark damp confines of the prison chapel, Plunkett is taken out the next morning and executed. Their tragic love story to this very day has found a place in the nation's heart.
Set against the background of the Easter Rising 1916, Cunningham in his well-researched writing introduces us to the lesser known internal difficulties within the Irish Volunteers. Eoin McNeil, leader of the Volunteers struggles to come to terms with the plans of Padraig Pearse, militant leader of the IRB, a secret republican movement that had successfully infiltrated all units of the Volunteers.

Pearse wants blood spilt in order to awaken a nation from its colonial slumber. Their clash has disastrous consequences for the rising.
A superb cast of over thirty led by Lauren McCrory as Grace Gifford and Daniel Donnelly as Joseph Plunkett, retrace the steps of history and bring both knowledge and enjoyment to a well-told story that sowed the seeds of freedom and gave birth to a nation.
The musical/drama "Blood Upon The Rose" will bring you on an emotional rollercoaster that will live long in the memory. "Let the Nation Rise","The Hungry Eye Sees Far' and the beautiful song "Grace", penned in 1985 by Sean and Frank o' Meara, among others, will instal and reinforce in you a pride in the men and women who gave everything for the cause of Irish freedom over a century ago.
Sit back and let us take you right into the heart of Dublin, Easter 1916.
Important Ticket Information

Please note: The SEC Box office is temporarily closed. We are currently processing all ticket purchases online rather than at the SEC Box Office for the foreseeable future.

Accessible tickets can be booked online, or you can call 0141 576 3230 (replaces 0800 952 0110 temporarily) (open Mon-Fri 9am-2pm).

COVID-19 Customer Update

COVID Status: Proof of Vaccination or Exemption is not required to gain entry.

In accordance with Scottish Government guidance, visitors will not be required to present proof of vaccination status on entry to this event.

Please familiarise yourself with our COVID Safety Measures before attending, click here.

Digital Tickets

Your mobile is now your ticket.

Delivering the best purchase experience, digital tickets removes the inconvenience of visiting the box office in person or making a call to book. Purchase via ovohydro.com or sec.co.uk and your tickets will be delivered straight to your device, when available. Your tickets will be stored in your TM account and can be accessed via the TM mobile app.

No more worrying if tickets will arrive in the post or hoping you get them in time for that important gift. The stress of losing or forgetting your tickets will be replaced with the confidence of knowing that they are stored securely on your device and are available for you at any time.

Transfer tickets quickly and easily to all members of your party, giving you the freedom to plan your journey to the venue. No need for everyone to arrive together or wait for that friend who is held up.

For more information about digital tickets, please click here.

Accessible Ticket Booking

Customers who wish to buy tickets for accessible positions can do so online via our websites (ticketing powered by Ticketmaster), or by using our accessible booking line on 0141 576 3230 (replaces 0800 952 0110 temporarily) (open Mon-Fri 9am-2pm).
27 Aug 2022
SEC Armadillo

Early Bird Tickets

£29.60 - £35.25
(inc admin fee) + fulfilment