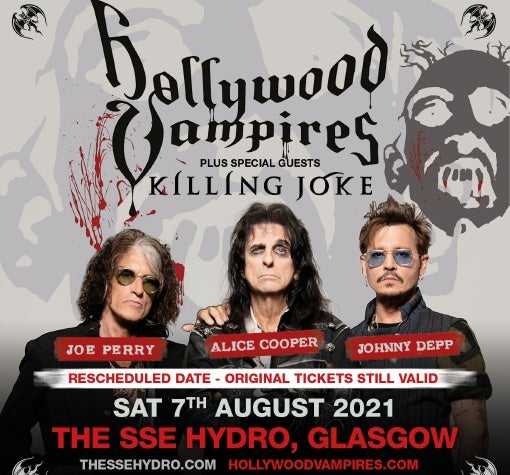 Hollywood Vampires
Plus special guests: Killing Joke
07 Aug 2021 Doors: 6.00pm

Show starts 7pm
*Event timings issued are a guideline only and may be earlier or later than originally published.
Rescheduled from 3 September 2020
A message from the organiser:
American rock supergroup Hollywood Vampires have rearranged their 2020 UK tour for August 2021.
The new dates come as a result of the ongoing situation around COVID-19 but the band are determined to bring their exhilarating show back to the UK fans as soon as possible.
And they can announce that they will now be joined by legendary London post punk, goth and metal pioneers - Killing Joke.
Rock and roll royalty Joe Perry, Hollywood superstar Johnny Depp and shock rock icon Alice Cooper will tour in support of their critically acclaimed second studio album "Rise".
The three legends first came together to record in 2015, bonding over a shared love of their favourite songs and a desire to celebrate their 'dead, drunk friends' by playing the songs of the fallen heroes. Riotous performances ensued around the world.
Joining the tour as special guests for an irresistible line up are one of the most important rock bands to come out of the UK. Killing Joke were formed in West London in 1978 and the band has been cited by everyone from Metallica and Nirvana to My Bloody Valentine and LCD Soundsystem as a key influence. They have been labelled goth, post punk, industrial and more over an innovative career that has had far reaching consequences for rock music.
Last year, Hollywood Vampires completed a triumphant seven-city North American tour which included a sell-out show at the famous Greek Theatre in Los Angeles and were voted the "best performance" of 2018 at London's Wembley Arena on their last UK tour.
An exclusive glimpse behind the scenes on the road can be found in the video taken from the recent album "I Want My Now".
The 16-track album "Rise," produced by Tommy Henriksen and the Hollywood Vampires, is one of the purest, most unapologetic and enjoyable rock and roll albums of recent times, made by masters of the craft and true fans of the form. Unlike their 2015 debut record, the second album consists mainly of original material, written by the band. There are however, in the spirit of the Vampires' original mission, three covers of songs originally written and recorded by legendary rockers who died far too young. "Rise" is released on earMUSIC.
VIP Packages

Hollywood Vampires Ultimate Meet & Greet Package - £1200 (includes ticket)

One Reserved ticket in rows 1-3 or One General Admission Ticket
Personal Photo Op with Joe Perry, Johnny Depp and Alice Cooper
Meet & Greet with Joe Perry, Johnny Depp and Alice Cooper
Autographed Hollywood Vampires 8x10
Exclusive Hollywood Vampires VIP Merchandise item
Commemorative Hollywood Vampire's Meet & Greet Laminate

*Please note there are not personal autographs or photographs during the meet & greet. A staff photographer will take your meet & greet photo. Each person attending the meet & greet will receive the autographed 8x10. If you purchase a general admission ticket we cannot guarantee your spot when you return from the meet & greet.

Hollywood Vampires VIP Merchandise Package - £225 (includes ticket)

One Top Price ticket
Priority early entry into the venue ( when available)
Exclusive Hollywood Vampires VIP Merchandise item
Commemorative Hollywood Vampires VIP laminate

Digital Tickets

Your mobile is now your ticket.

Delivering the best purchase experience, digital tickets removes the inconvenience of visiting the box office in person or making a call to book. Purchase via theSSEhydro.com or sec.co.uk and your tickets will be delivered straight to your device, when available. Your tickets will be stored in your TM account and can be accessed via the TM mobile app.

No more worrying if tickets will arrive in the post or hoping you get them in time for that important gift. The stress of losing or forgetting your tickets will be replaced with the confidence of knowing that they are stored securely on your device and are available for you at any time.

Transfer tickets quickly and easily to all members of your party, giving you the freedom to plan your journey to the venue. No need for everyone to arrive together or wait for that friend who is held up.

For more information about digital tickets, please click here.
07 Aug 2021
The SSE Hydro

Rescheduled from September 2020

£51.10 - £73.80

(inc admin fee) + fulfilment

Accessible Ticket Booking Line:
0141 576 3230 (replaces 0800 952 0110 temporarily) (open Mon-Fri 9am-5.30pm)

Ticket limit: 6pp

U14s with adult 18+