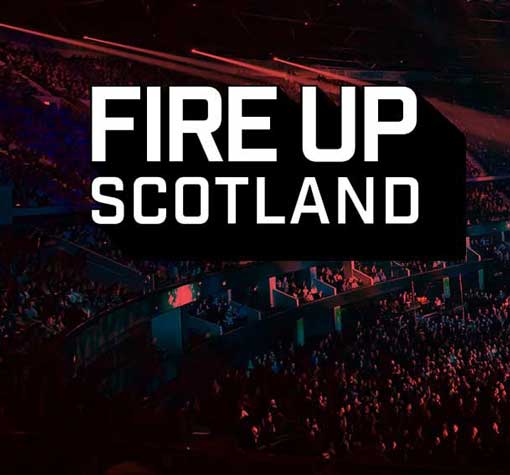 16 Aug
THE SSE HYDRO TO FIRE UP SCOTLAND!
THE SSE HYDRO TO FIRE UP SCOTLAND!
THE BIGGEST EVENT OF INSPIRATION TO BE HELD IN SCOTLAND FOR OVER 50 YEARS!
A new event aimed at youngsters will take place at the OVO Hydro on 12th September this year.
Fire Up Scotland has joined forces with the Scottish Event Campus in Glasgow to create a truly unique learning experience for Scotland's young people.
The free event for schools across Scotland, which is already fully subscribed, will run in partnership with Scotland's biggest event arena and aims to support and enhance the work schools are already doing. Other strategic partners onboard include North Lanarkshire Council, The Hunter Foundation and the workshop and training course provider, Tree of Knowledge.
Described as "TEDx meets The Fringe", the day-long experience will have presentations from keynote speakers from a cross-section of society from all over Scotland who will share captivating stories and provide young people with a once in a lifetime chance to hear first-hand how they can shape their own futures.
Gavin Oattes, organiser of Fire Up Scotland and renowned keynote speaker, said:
"It's so exciting to see such a huge amount of interest in our inaugural Fire Up Scotland event. We have over 140 secondary schools registered, and all 12,000 tickets were snapped up in just one day.
"Fire Up Scotland exists solely to ignite the imaginations of our future generations. It's our mission to inspire young people to believe that anything is possible, and there's no wrong path in life. We see the event as recognition of the Scottish Government's Year of the Young People."
Billy McFadyen, Corporate Services Director, SEC added:
"We are delighted to be partnering with Fire up Scotland and such a worthwhile initiative. It is a great opportunity for us to add value to the Developing Scotland's Young Workforce agenda and sits well within the framework for improvement set out nationally.
This event aligns with our company wide commitment to engage with the wider community. We've seen the massive success of TEDx on our campus and judging by the programme Gavin and his team have planned it's going to be a truly inspirational and interactive experience for Scotland's young people!"