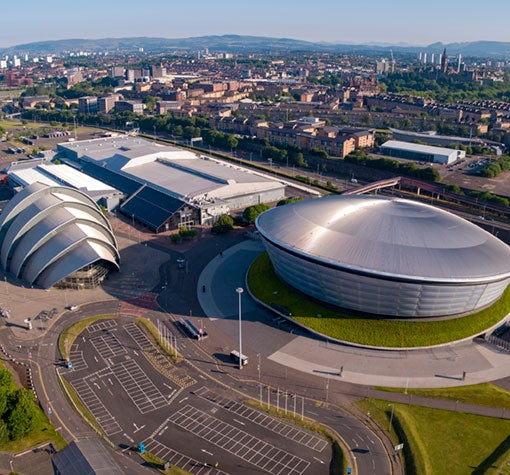 10 Dec
Scottish Event Campus secures 2023 European hat-trick
The Scottish Event Campus (SEC) has won three significant European meetings for 2023.

The European Conference on Optical Communication (ECOC), the European Society for Radiotherapy Oncology (ESTRO) and the European Magnetic Resonance Meeting (EUROMAR) will all be held at the SEC and will welcome over 10,000 delegates to Glasgow.

These prestigious conferences have selected Glasgow because of its outstanding scientific strengths, a good business case, and a highly effective team approach from the academic and scientific communities, the SEC and our partners Glasgow Convention Bureau - these are the critical success factors for attracting high-profile conferences.

Director of Conference Sales at the SEC, Kathleen Warden, said: "Conferences are a catalyst for social and economic progress, and the fact that they are happening in our city, puts Glasgow, Scotland and the UK at the heart of positive change."

Simon Blows, Event Logistics and Development Manager at the Institution of Engineering and Technology, said: "The IET is thrilled to be bringing ECOC to Glasgow in 2023. As a global hub for photonics research with institutions such as the nanofabrication centre at the University of Glasgow, the Fraunhofer Centre for Applied Photonics and the Institute of Photonics at Strathclyde University, Glasgow is well equipped to host ECOC. 2023's event is expected to feature many local innovations and technical advances.

"As a city, Glasgow is modern, exciting and vibrant whilst also being packed with plenty of history and culture. Many local sites and landmarks will feature as part of ECOC's highly anticipated social programme, offering the delegates from around the world the chance to experience the city and the famous Scottish culture, alongside the conference."

Professor Anthony Chalmers, Chair of Clinical Oncology at the University of Glasgow, said: "We are thrilled that Glasgow has been selected as the host for ESTRO's Annual Congress. ESTRO's goal is to demonstrate progress in the optimal use of radiation oncology. The congress is a catalyst for us to deliver the local engagement project which aims to increase the use of radiotherapy for cancer patients across the West of Scotland.

"Winning the bid is a result of great teamwork between the Beatson West of Scotland Cancer Centre, the University of Glasgow and the Beatson Cancer Charity."

Aileen Crawford, Head of Conventions at Glasgow Convention Bureau, said: "It is great to see Team Glasgow working together on behalf of our prestigious European associations. The Glasgow offering continues to connect and resonate with European decision makers, looking for a committed host location to help deliver a successful meeting."