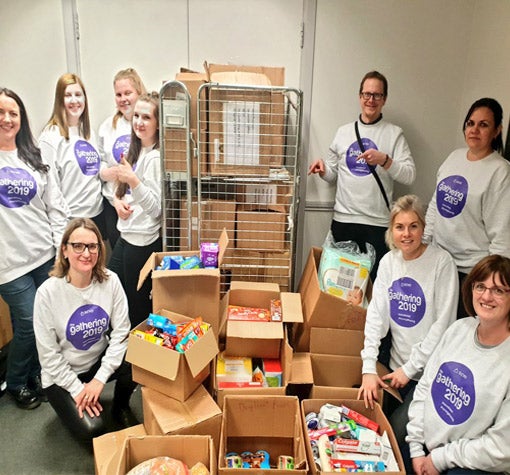 25 Feb
Glasgow charity receives huge donation from third sector colleagues
A Glasgow foodbank has received a big donation following the largest third sector event in the UK.
The Gathering – hosted annually by the Scottish Council for Voluntary Organisations (SCVO) - attracts thousands of attendees each year, from charities, social enterprises and voluntary groups.
To celebrate its 15th year, SCVO staff teamed up with the Scottish Event Campus (SEC) and the Trussell Trust to encourage donations to the venue's local charity, the Glasgow North West Foodbank.
Staff and volunteers from the foodbank were invited to come along and host a stand at the two day event and provide event organisers with a list of items they urgently needed. Attendees, exhibitors and event hosts were then asked to bring along a small item each to help out.
True to form, charitable colleagues from across the country delivered, donating hundreds of items – from cereal and soup to toothpaste and nappies - over the 20th and 21st February.
Event Manager Alex Thomson said: "We were absolutely overwhelmed and blown away by the amount of donations to the foodbank over the 2 days from our visitors, partners and supporters. It just goes to show that everyone bringing a small donation each makes a big impact for such a worthy organisation supporting people across the North West of Glasgow."
Shelley Spencer, Senior Sales Manager, National Associations, at SEC, said: "The Scottish Council for Voluntary Organisations (SCVO) has been a client of ours for a long time and we were delighted to support this initiative. Giving back to the community is really important to us and we hope that we continue to see many programmes like this going forward."
The Trussell Trust's chief executive Emma Revie said: "Thank you so much to each and every donor. We're blown away by people's support to provide emergency help, and ultimately work towards a future without hunger and poverty. This kind of generosity shows that as a nation we believe in justice, compassion to change society for the better."