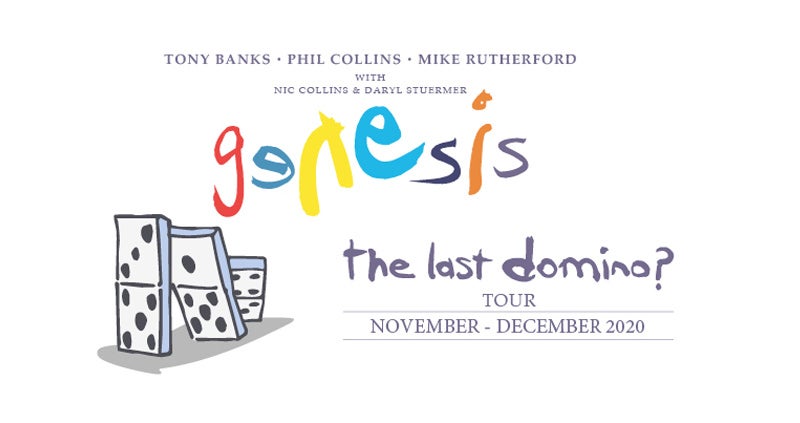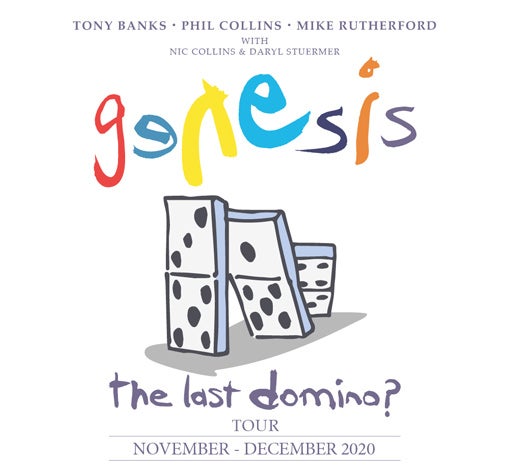 Genesis
The Last Domino? Tour
11 Dec 2020 Doors: 18:30

Show starts 8pm

12 Dec 2020 Doors: 18:30

Show starts 8pm
*Event timings issued are a guideline only and may be earlier or later than originally published.
Genesis, who are among the biggest selling recording artists of all time and one of Britain's most internationally renowned bands, will be touring for the first time in 13 years.
The Last Domino? Tour 2020 starts in Dublin on 16 November and will be Tony Banks, Phil Collins and Mike Rutherford's first live outing together since the globe-trotting, sell-out Turn It On Again: The Tour in 2007. They will be joined on stage by Nic Collins on drums, and the bands long time guitar and bass player Daryl Stuermer.
Genesis are one of the world's biggest selling and most successful bands of all time. They have sold an estimated 100 million albums and have played to sold-out stadiums and arenas all over the world for decades.
VIP Packages

"Tonight, Tonight" VIP Dinner Experience
£725 + £40.00 service charge + £1.40 facility fee
Enjoy the ultimate concert experience with our "Tonight, Tonight" VIP Dinner, which includes incredible amenities such as:

• Premium seat locations in the front of the first floor sections near the stage
• Access to the "Tonight, Tonight" pre-show VIP dining experience, featuring a delicious tasting menu with a curated wine pairing
• Viewing access to the official Genesis Time Capsule & Photo Exhibit, bringing the tremendous history of this legendary band to life
• Exclusive VIP merchandise pack, including one very special commemorative gift item only available through purchase of this package
• Crowd free shopping at a dedicated merchandise stand
• On-site perks, such as priority check-in and a dedicated customer service line

Premium Fan Package
£370 + £28.50 service charge + £1.40 facility fee
For fans who want to kick their concert experience up a notch and enjoy some of the best seats in the house, purchase our "Premium Fan Package" which includes benefits such as:
• Amazing seat locations in the middle rows of the first floor sections
• On-site perks, such as priority check-in and a dedicated customer service line
• Exclusive VIP merchandise pack, not available for purchase elsewhere


Fan Package
£320 + £26.75 service charge + £1.40 facility fee
For fans who want to elevate their concert experience, purchase our "Fan Package" which includes incredible amenities such as:

• Great seat locations either in the rear of the first floor sections, front of the second floor sections, or first two lower concourse sections closest to the stage
• On-site perks, such as priority check-in and a dedicated customer service line
• Exclusive VIP merchandise pack, not available for purchase elsewhere

Terms & Conditions

Packages are open to all ages
Please note that all package purchasers will be contacted by our team via e-mail 3-5 days prior to the actual show date with additional details specific to their package schedule and instructions on where to pick up their package inclusions to the e-mail address provided at the time of purchase
All merchandise will be collected on site on the day unless otherwise noted
All programs & times may vary market-by-market and are subject to modification at any time for any reason
All events, dates, venue, party, merchandise, and amenities are subject to change and cancellation at any time at our sole discretion
All sales are final
There are no refunds or exchanges on packages for change of mind
The artist, tour, promoter, ticketing company, venue or any other affiliated parties are not responsible for outdated or inaccurate information provided to the consumer at the time of purchase which may result in undelivered product

·For questions regarding your package, please contact [email protected]
11 - 12 Dec 2020
The SSE Hydro

£68.10 - £181.60

(inc admin fee) + fulfilment

Accessible Ticket Booking Line:
0800 952 0110

Ticket limit: 4pp